Are you ready for the war of fists and words between Odell Beckham Jr. and the Panthers' secondary to reach (sink to?) a new level of absurdity? Well then you are in luck, because now baseball bats are involved.
Here's a super-weird report from ESPN's Adam Schefter:
In pregame warmups, at least one Panthers official, and possibly more, carried black baseball bats on to the field and were motioning with them towards Odell Beckham Jr. while making comments to him, per a league source. Norman later grabbed the black bat and was swinging it in pregame warmups – which, by the way, an NFL Films camera captured. Beckham, according to another source, felt threatened and it helped put him in a certain frame of mind. It does not excuse what he did during the course of the game, but it does explain what led up to the battle that still is the talk of the league today.
It's true! There were bats! In this Instagram video you can see practice-squad player Marcus Ball pointing a bat at the Giants as they took the field:
G/O Media may get a commission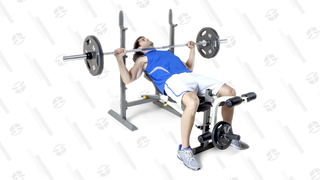 10% Off
Marcy Folding Weight Bench
According to NFL.com's Ian Rapoport, Ball later had to be separated from Beckham Jr.:
We still don't know who the "Panthers official" mentioned in Schefter's report could be, but Giants beat writer Art Stapleton is reporting that Josh Norman was also wielding a bat before the game, and that threats toward Beckham Jr. were made:
And here's a shot of Norman holding the bat, but he appears to just be talking to his teammates:
Meanwhile, the Panthers are denying that any threats were made:
Welcome to Batghazi!