NFL owners will meet soon to approve the relocation of the St. Louis Rams and San Diego Chargers to the Los Angeles area, where they will share an Inglewood, Calif. stadium, according to numerous reports.
The Rams, Chargers, and Oakland Raiders all officially filed for relocation at the end of the regular season, but the NFL was always only ever going to approve (at most) two of them moving to Los Angeles. The two competing proposals were for the Rams to move to a massive Inglewood stadium and entertainment complex (that the public wasn't allowed to vote on) built by owner Stan Kroenke, while the Raiders and Chargers proposed sharing a stadium in Carson, Calif., a project helmed by Disney CEO Bob Iger.
G/O Media may get a commission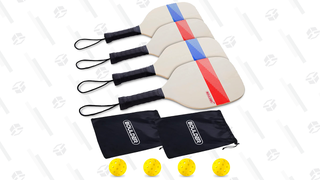 It's Pickleball
Pickleball Sets
Earlier today, the NFL's six-member relocation committee—consisting of the owners of the Patriots, Giants, Panthers, Steelers, Chiefs, and Texans—recommended the Raiders' and Chargers' Carson proposal. But with it clear that neither the Carson nor Inglewood proposal would be able to gain anywhere near the necessary votes (24 of 32) for approval, a hybrid plan gained steam. In the first round of voting, 20 owners reportedly voted for a reconfigured Inglewood project, with either the Raiders or Chargers joining the Rams.
After more negotiation that second team became the Rams, with the Raiders getting a little extra loan money from the NFL to build a Bay Area stadium. The full details haven't been worked out yet—will the Chargers be full partners with the Rams, or just tenants?; will the Chargers move to Los Angeles immediately?—but those details are expected to be finalized over the next year.
As seen in the photo above from 11 months ago, work on the Inglewood stadium hasn't really begun, and the most optimistic timeline has it opening for football in 2019, four seasons away. With the Rams and maybe Chargers playing in Los Angeles just seven months from now, it isn't clear yet where they will play. One team could play at the Coliseum, but USC's lease with the stadium forbids two professional teams from using. If the Rams do immediately move to Los Angeles this lease will probably have to be rewritten (with a payout to USC), seeing as both the Rose Bowl and Dodger Stadium have taken themselves out of the running for an NFL team.
Meanwhile, Mark Davis and the Raiders will be left to slink back home to Oakland to try and repair their broken relationship with Raiders fans, while playing in a 50-year-old stadium that frequently floods raw shit. But as bad as that deal is, it's still better than the ones Rams and Chargers fans got.
Photo via AP
---
E-mail: kevin.draper@deadspin.com | PGP key + fingerprint | DM: @kevinmdraper