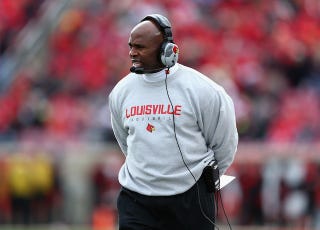 If we've gotten this far in the Strong-to-Texas story—he reportedly called a staff meeting at 9:00 a.m. this morning—it seems pretty certain that Charlie Strong is going to leave Louisville for Texas. But who knows, everyone always gets so careful with these things.
Some sources say Strong hasn't been offered the job, but would accept it were it offered to him. Others say he has been offered the job but wants to speak to his Louisville staff before accepting it. Still others point out that while Strong appears to be close to taking the job, he was also close to taking the Tennessee job and decided against it. That last one is extra cautious because if we're comparing UT jobs, well, sorry Vols.
Assuming the reporting is accurate, two things make this an obvious decision for Strong. First, it's Texas. Second, the reported offer is a five-year deal at $5 million per year. If these two crucial bits are accurate—and Louisville doesn't swoop in at the last minute, offering an absurd contract—Charlie Strong will replace Mack Brown. But nothing's official yet, so on Friday night, the Louisville AD informed ESPN that Strong told him he had not taken the job. Elsewhere, a "high ranking Texas official" said he hasn't accepted the offer, but he's agreed in principle.
Actual news concerning Charlie Strong's no-brainer decision to take the Texas job is expected later today.
Photo credit: Getty Images