Protests have swirled through Charlotte after Keith Scott, a father of seven, was shot and killed by Charlotte PD Tuesday. According to his family, he was armed with nothing more than a book. This evening, protests once again became violent, and reporters from the scene are reporting that someone has been taken to the hospital with life threatening injuries after they were shot in the head outside the Omni Hotel in downtown Charlotte.

Police have also been throwing tear gas to disperse crowds

G/O Media may get a commission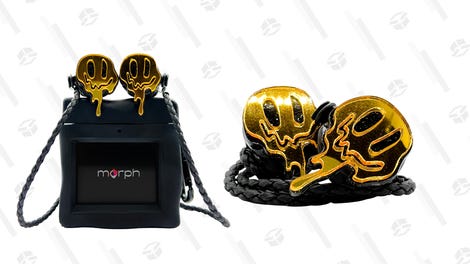 morph audio
Morph Earphones
A CNN reporter got bodychecked to the ground.
We'll update this post as more information becomes available.
Update, 9:26 p.m. EDT: The man who was shot is dead.
Update, 9:45 p.m. EDT: Here's how police have been grabbing and arresting protestors.
Update, 9:52 p.m. EDT: Our reporter Justin Westbrook is live on the scene.
Update, 10:05 p.m. EDT: Here's an intense photo from Getty's Sean Rayford.
Update, 10:37 p.m. EDT: Here's our new livestream.
Update, 10:46 p.m. EDT: The city of Charlotte has reported that the shooting victim is alive and on life support.
Additionally, here is a reporter falling down injured next to a fire. Reports indicate that protestors attempted to throw him into the fire.
Update, 11:01 p.m. EDT: Here's our new livestream.
North Carolina governor Pat McCrory (an asshole) has issued a statement, promising that state troopers are headed to Charlotte.
Update, 11:24 p.m. EDT: And McCrory has now declared a state of emergency.