Let's get one thing out of the way first: If you're taking sartorial advice from the likes of Kevin James or Adam Sandler, you have a big, big problem. These guys are showing up to movie premieres in T-shirts and flip flops, and The Cut says it signals that we've hit a schlubby period in fashion. Have some self-respect, and resist the urge to follow this bad trend.
T-shirts are for weekends, sandals are for the beach, and sweats are for hangovers. This photo was taken just a day after the one above, which means Adam Sandler has given up on life.
It takes little to no effort to just tuck your dad-gum shirt in. Also, learn to recognize when a T-shirt needs to be retired, as Adam's is clearly way past its prime.

G/O Media may get a commission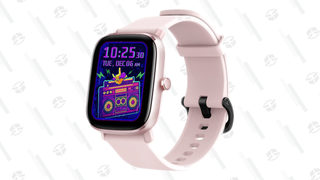 20% Off
Amazfit GTS 2 Mini Smart Watch
Get fit
Has built-in Alexa so you can ask questions and carry your smart assistant around with you; it has a battery that can last up to 14 days, has over 70 different sport modes, is 5ATM waterproof, and tracks stats like your heart rate, calories burned, sleep, and more.
Also: Just because something is from Lacoste or some other French-sounding designer does not make it a nice shirt.
Is Twitter genius Kevin Smith now considered a style icon? Well, he shouldn't be.
A dirty baseball cap has no place at a public event; ditto a hockey jersey for someone three times your size. Not pictured: hemmed jorts. No. No sir.
The Cut also mentions a recent New York Times piece that calls out Jeb Bush for announcing his run for the presidency in just a button-down shirt, rather than the traditional suit and tie. He may be a dumb idiot, but let Jeb live: At least he tucked in his shirt, and at least that shirt had a collar and was ironed. He even had a belt on. A belt! I seriously doubt Kevin Smith owns a belt at all.
So take your style cues from elsewhere. Streetwear can look nice, and the current streetwear trend is usually fine. But it does not give you permission to wear clothes that don't fit or shirts that look tired, nor are you allowed to pass off fucking flip flops as formal wear. Take some pride in your appearance. At risk of sounding like your mother, would it hurt you to wear a collared shirt? If you're Adam Sandler, I'm guessing it would.
All images via Getty