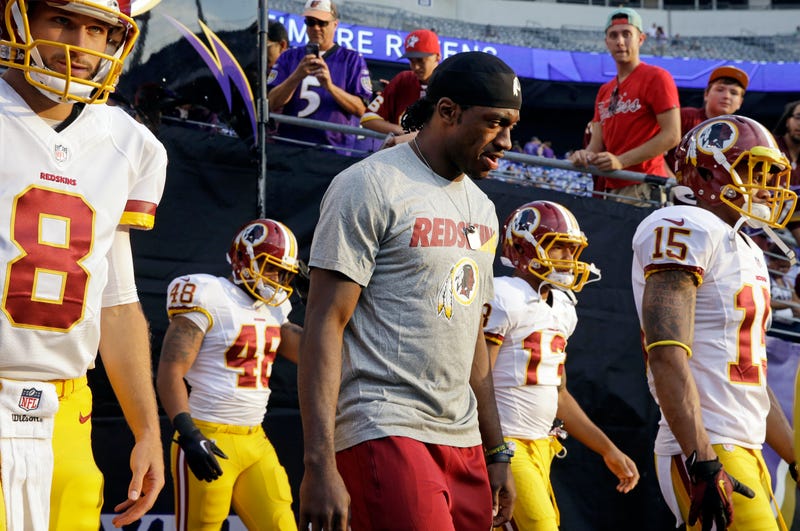 Good lord, that's a silly headline. It's a silly story. But it's been a silly three years, and there's something microcosmic about the last 24 hours in Robert Griffin III's preternatural inability to have a single thing go right or painlessly. Yesterday it was about losing his job. Now it's about clicking a little heart.
Last night, after a day full of leaks and denials and intra-Ashburn power struggles writ public, a devoted Washington fan made an Instagram post expressing his frustrations. He criticized owner Dan Snyder and the Skins' front office, but praised Griffin for persevering.
It also had an interesting hashtag.
As a Skins Fan I'm disappointed in the way my team used this mans talent and potential to do nothing but raise hopes and make a profit. I don't regret the skins grabbing RG, I do regret having a sorry ass team owner and sorry ass front office who couldn't put a winning coaching staff together who could actually compete for a super bowl. Griffin does not deserve the blame or bad rap, the man has gone above and beyond since day one to the point of injury, while at the same time being a role model of a person. The Redskins let him fall and did not help him get up. No matter if he's a starter, back up, or played for another team I will always respect and be a fan of RG3. #HTTR #Loyalty #ImpeachDanSnyder #Redskins #redskinsnation #DC #NFL @rgiii @espn @nfl
Soon after, Griffin's Instagram account liked the post. Everybody noticed, of course. There are all kinds of things that could have been and were read into it, from RGIII possible revealing his true feelings to a continuance of a mini-controversy in February when he was accused of spending too much time on social media. (It was dumb, but nothing here isn't dumb.)
Early this morning, Griffin unliked the post, and made a post of his own:
I just wanted to set the record straight on this one. I did not "like" that IG post ridiculing our team. I have not been social media active consistently for awhile now and am ultra-focused on working to get back on the field and trying to help this team. One of our interns who helps with Instagram liked the post. As soon as I was made aware of it, it was immediately unliked. That is not how I feel and I appreciate your understanding. #HTTR
Not just his intern: one of his Instagram interns.
For overviews of how we got here, how we went from fitting the most exciting player in the NFL for a ring and a yellow blazer in his rookie year to parsing his social media activity for signs he wants out, you could do much worse than reading Charlie Pierce and Peter King. But we all know it already. We've watched it play out since 2012, the NFL's slowest-motion car wreck. I sure as hell can't look away.
Frivolity of the medium aside, it's not useless to look to clues as to Griffin's state of mind. Even if he passes his concussion tests next week, there's every chance he's played his last snap in burgundy. If he really wants to leave, he could re-do his contract and the $16 million he's owed in 2016 to make him a more feasible trade target. If he's mutinously unhappy, it's not out of the realm of possibility that the Skins cut him outright. If not, he'll just have to take his place at third on the depth chart. He won't have to like it, but he'll have to watch how he complains.