Mike Shanahan is daring Washington to fire him. Dan Snyder has no problems seeing Shanahan go, but not at the cost of the $7 million remaining on his contract for 2014. Caught in the middle of this ugly divorce is poor, innocent, Robert Griffin III. It's always the children who suffer. At least he'll get two Christmases this year.
Late in Sunday's blowout loss, Shanahan benched Griffin for Kirk Cousins. After the game, he pointedly wouldn't commit to starting Griffin next week. On Monday, he doubled down, indicating that he is considering benching Griffin for the rest of the season because he's taking too many sacks, although Shanahan said Griffin is 100 percent healthy.
No one believes Shanahan is really concerned about next season, because no one believes Shanahan will be back next season. With a 3-10 record, it was assumed that he'd be fired yesterday. But here he is, making noise about benching the franchise QB and only marketable player. So what's this really about?
If Mike Shanahan is fired, he keeps the $7 million he's owed for 2014. If Mike Shanahan is fired with cause, Dan Snyder pockets that money. Rumblings yesterday had team executives considering their options to fire Shanahan with cause—one of them being the claim that Shanahan was behind a bombshell ESPN story that came out on Sunday.
From that ESPN report:
The source said Shanahan had grown tired of the way Snyder empowered Griffin and openly esteemed him above all other players. Shanahan didn't blame Griffin but did blame Snyder for creating an atmosphere that Shanahan did not believe was conducive to winning. Shanahan privately told people close to him that he felt Snyder's behavior with regard to Griffin was a "complete farce."
G/O Media may get a commission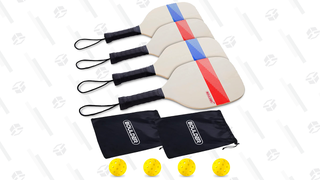 It's Pickleball
Pickleball Sets
If Washington could somehow prove that Shanahan was the one who leaked the story, it would solve all their problems. But Shanahan reportedly wants to force their hand now.
According to a report in the Post, the threat to bench Griffin seems "an attempt by Shanahan to provoke Snyder to fire him this week." Because Shanahan's contract contains very specific language giving him control over personnel moves, that would qualify as a firing without cause—and entitle Shanahan to his remaining money. He wants Snyder to ax him and save Griffin from the bench.
But a source in the front office says Snyder won't interfere with Cousins being named starter. Consider Shanahan's bluff called.
So this is where we are. A coach trying to get fired from a team he doesn't want to work for. An owner trying to avoid firing the coach he doesn't want. A quarterback, in just his second year of professional football, staring the possibility of a confidence-shattering, development-retarding, fan-alienating, three-game benching in the face. And everything is being played out in the media through anonymous sniping and backstabbing. Forget Robert Griffin's on-field struggles: This is how you run an unsuccessful football team.