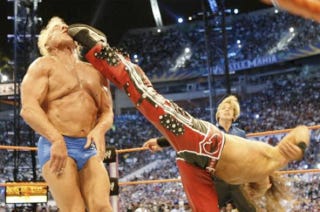 As if dealing with the passing of associate Randy "Macho Man" Savage wasn't weighing heavily on Ric Flair's mind, The Nature Boy found himself held in contempt of court this week "for failing to repay a loan and autograph photos for a wrestling merchandise company."
Highspots Inc. ... wants Flair to repay the loan and sign 300 photos, or give up a world championship belt he put up as collateral. Flair's agent Melinda Morris Zanoni, told the newspaper this was a simple business dispute and Flair intends to comply with the court order.
Flair could do 90 days in the clink if he doesn't do so.
Flair found in contempt for not paying $35K loan [Charlotte Observer] (H/T Beau, photo from thecoolkidztable.blogspot.com)
Wrestler Ric Flair found in contempt over business loan [News 14]