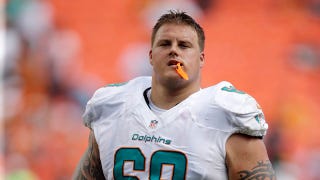 Emerging from disciplinary purgatory after his role in the Dolphins' bullying scandal, Richie Incognito's path to return to the NFL is now wide open. And it appears he's going to catch on with a team soon, according to Adam Schefter:
The Dolphins had Incognito on paid suspension, and the NFL wanted to review its investigation before saying whether it would allow him to sign. Now that this step has been taken, Incognito is free to not only sign with a team but play right away.

There are at least three and as many as five teams interested in and talking with Incognito, a source told Schefter. He is likely to sign somewhere by the end of the week, according to the source.
The Buccaneers have met with Incognito already, but that was before they traded for Pro-Bowl guard Logan Mankins. Maybe this opens up a spot in Foxboro for Incognito? Either way, Incognito will find a home soon enough, and his act shouldn't be a problem as long as he can help the team win.
[ESPN]