We should begin with the important stuff. There is a league that plays at Louisville Slugger Stadium, in Louisville, over the course of a brief eight-team tournament held at the height of summer. It's called the Bluegrass World Series, and seven of the teams in its field have rosters made up of collegiate players. The eighth is just pure uncut GUYS.
This year's Louisville Stars roster was managed by Johnny Bench, coached by various moderate-wattage ex-Reds luminaries—Tom Browning, the Gary Larson–esque galoot who was the team's ace of convenience during the late 1980's, served as the team's pitching coach—and stocked with the sort of players that anyone who followed baseball during the previous couple of decades will remember with the sort of faintly ticklish vagueness that defines the Remembering Some Guys experience. Look at this shit:
Most of these guys are somewhere between five and 10 years out of the bigs; Jayson Werth was in Triple-A earlier this season, and Chipper Jones was inducted to the Baseball Hall of Fame last week. The guys played their games wearing jerseys they wore back when they played professional baseball and won the tournament with relative ease. Aaron Harang credited a strong performance to some side-work he did with Louisville Stars teammate Brett Tomko. Jason Marquis said that he was not in "pitching shape," but definitely in "throwing shape." One of the charities that will benefit from ticket sales is the Woody Williams Foundation. It is just GUYS all the way down. Chris Burke apparently looked very good at shortstop.
Amid this whirlwind of guys and vaguely creaky baseballing and the hooting whalesong of Nick Swisher bro-ing it down hardcore in the dugout, it was easy to miss Rick Ankiel taking the mound for the first time since 2004, and comparatively easy to dismiss him throwing some high-80s fastballs—heat by Bluegrass World Series standards, but mere warmth by the prevailing standards in big-league bullpen—by a Hattiesburg Black Sox opponent for an inning-ending strikeout. Given that there are any number of more momentous baseball things happening at this moment despite it being the least-momentous part of the baseball season, there's no real reason to pay attention to this. Probably.

If you are below a certain age and remember Ankiel at all, it's most likely as a Guy. He spent most of his big league career, which stretched over 14 years in two uneven chunks, as a useful-but-not-great outfielder. That part of his career, during which he played solid and intermittently spectacular defense and ran into a few homers, covered six teams and seven seasons and ended, as a strong plurality of middling careers invariably have over the last decade and a half, in a desultory stint with a crappy Mets team. That came in 2013, when Ankiel was 33, and was notable mostly because of the role that the Mets played in the end of the first part of Ankiel's career, when he was first a phenomenon and later something like a star and then suddenly and crushingly a cautionary tale without any obvious lesson beyond being a reminder of life's broad cruelty. He was still a pitcher, then.
G/O Media may get a commission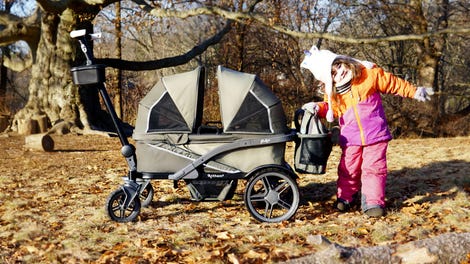 30% off
The Anthem All-Terrain Stroller Wagon Adventure Bundle
Go everywhere with your kids
This must-have bundle nets you either of Gladly's award-winning Anthem2 or Anthem4 All-Terrain Stroller Wagons as well as must-have accessories like a parent cupholder, a removable storage basket, extra-large canopies, a nap system, quilted comfort seats, a cooler bag with a padded shoulder strap, and a travel bag.
In 1999 Ankiel made it to the majors with the Cardinals at the age of 19, and was the runner-up for National League Rookie of the Year honors the next year, when he was worth 3.3 wins above replacement as a starting pitcher (and, per Baseball-Reference, another 0.7 WAR as a hitter despite just 73 plate appearances). That version of Ankiel was more-good-than-not in the way that pitchers who are bound for greatness can be at the start of their careers—he both walked and struck out more batters than was probably sustainable, but he was difficult enough to hit that it was easy to see how he might, with a little bit more command on both his pitches and his instrument, just show up some year as one of the best pitchers in the league. That was how it went for Max Scherzer. That was not how it went for Ankiel.
In a start against the Braves in the 2000 NLDS, Ankiel lost the strike zone in dramatic fashion, getting just eight outs and allowing four runs thanks in large part to six extremely unintentional walks; he threw five very wild pitches in one inning of work, which is a record that's unlikely to be broken. In the next round, against the Mets, the meltdown continued apace. Ankiel made two appearances, retired just four of the 10 batters he faced, walked five, threw four more wild pitches, and sent many more pitches rocketing into the backstop. In the last of these two games, a mop-up appearance in Game 5 at Shea Stadium, the crowd was on him from the third pitch, which sailed over and past Mike Bordick. They chanted and jeered and Ankiel sent pitches in some frankly non-Euclidean angles and generally collapsed into something too dense and sad for any hope to escape. He pitched in parts of two more big league seasons and never again found the strike zone for any significant period. He looked well and truly done as a big leaguer in 2004—a what-might-have-been case that even non-Cardinals fans could wonder over and rue. He was still just 24.
It was remarkable that Ankiel made it back to the majors as a hitter three years later, and more remarkable still that he had any kind of big league career after that, let alone the perfectly cromulent one he enjoyed as an outfielder. Periodically he would uncork some psychedelic laser from centerfield and remind everyone of the talent that initially got him to the majors, but Ankiel was good enough at the thing he was second-best at that he would have earned a spot among the Guys on the Louisville Stars lineup even if he had never almost been the sort of player he almost was.
All of which is kind of a long way around to that one insignificant strikeout in this one strange game. Ankiel hadn't pitched seriously in many years, and hadn't really worked out as a pitcher prior to asking Browning to give him a shot on the mound in the Stars' next game. He was in the high-80s even with years of rust on his arm and all that dense scar tissue frozen over the old, jettisoned pitching version of himself. After the game, Ankiel told Yahoo's Tim Brown that he had felt the old feelings—the yips or The Thing or Steve Blass Disease or Knoblauch Syndrome or whatever you want to call the affliction that causes players, sometimes little-by-little and sometimes all at once, to completely lose the capacity to throw the ball where they want it to go—even in this meaningless game. "What do I have to feel anxious about?" Ankiel told Brown that he told himself. "I know how to coach and talk myself through these feelings. They were still there, and it didn't matter." He said that, while facing the one batter he struck out, his "heart rate didn't move."
Ankiel has, in his retirement, apparently spent some of his time working with other pitchers afflicted with whatever it was that he caught. To date, there hasn't been anything like a cure, or even a case of a pitcher who so completely lost the strike zone getting it back in any meaningful way. Daniel Bard, the most recent notable pitcher to come down with it, was last an effective big leaguer in 2012 and was still trying to shake it in the minors as recently as last season, when he walked 24 batters and hit four more over the course of nine-and-a-third innings. There's a tendency to oafishly mythologize this sort of thing, both because of baseball's general tendency towards oafish mythos and because of how inexplicable and stubborn it is, but also the disorder's track record is there for everyone to see. Pitchers that lose it like Rick Ankiel lost it do not generally get it back; that's the bigger part of why it's so remarkable that Ankiel was able to quiet himself enough to make it back to the majors at all, even in a role so different from the one he had before.
And it's also what makes it so notable that Ankiel managed to get back even a little bit of what he lost, even in a game that didn't mean anything in a league that I'm still not entirely sure I didn't just imagine. Ankiel told Brown that he's "toying with" the idea of trying to come back as a relief pitcher next spring; his kids have never seen him pitch, he said, and he'd like for them to see that. He'll be 40 years old if and when that happens, and will have the arm of a 25-year-old only in the sense that he won't have used it to throw any pitches in 15 years. There's no way to know if Ankiel can make it back, of course, and many reasons why a 40-year-old born-again rookie reliever might not succeed.
It would, moreover, be completely reasonable if, after giving it some thought and throwing some side sessions and talking to Brett Tomko or Dave Burba or Donovan Osborne or whatever other members of the Guys Community he deems consulting, Ankiel decides that he'd just rather not. But it's August and Rick Ankiel is Toying With It. This is a good time of year to speculate about or kind of idly dream on things like this, if only because there is so little getting in the way of all that. But it's also tempting to think that there might still be something there—something like what was once there, but which is quieter now and vibrating at a safer speed, and with which Ankiel still has some unfinished business. It's just something to think about, for now.