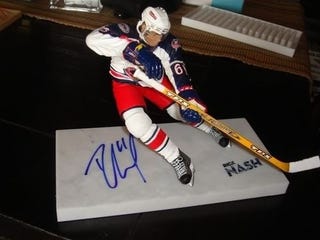 I haven't seen a hockey player make a move this fabulous since D.B. Sweeney's one-footed salchow in The Cutting Edge.
Columbus Blue Jackets forward (and NHL2K9 coverboy) Rick Nash went with an unorthodox move in last night's 3-2 shootout victory over the Anaheim Mighty Ducks. As he approached Franco-Canadianophile goaltender Jean-Sébastien Giguère, Nash lifted up his left leg and apparently that was enough to completely baffle Giguère since Nash easily snuck the puck in the corner of the net.
It was an inspiring victory for the Blue Jackets, as they responded nicely and appeared no worse for wear after getting thumped 9-1 by the Detroit Red Wings on Wednesday. And if you're not a keen hockey mind like myself, you should know that nine goals in one game is like, a lot of goals.
Columbus 3, Anaheim 2 (SO): Jackets climb out of their rut [The Columbus Dispatch]