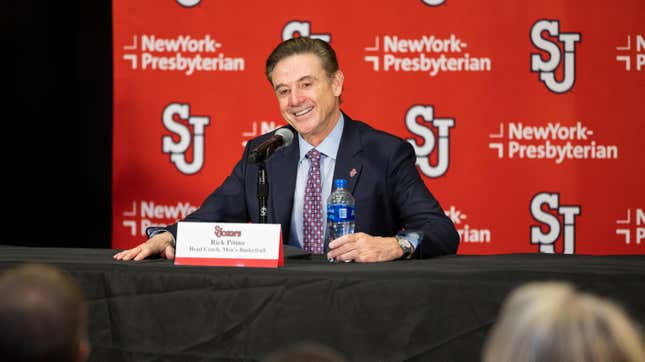 In front of 98-year-old Lou Carnesecca, and seated next to St. John's University President, Reverend Brian J. Shanley, Rick Pitino was introduced as the new St. John's University coach at Madison Square Garden at noon on Tuesday.
Grant Hill looks to repeat Team USA's 2004 "success"
The saint, the Father, and the prodigal son.
First question: "Can you win right away?"
Pitino, now 70, sounded confident notes throughout the press conference. Like this one: "It's not about when or if, it's going to happen for St. John's and it's going to happen in a big way," Pitino said.
The arc of our cultural memory is an odd thing. Pitino is a flawed man, who left college coaching under a cloud of charges at Louisville a decade ago. This press conference, however, was like time traveling back to the glory days of St. John's basketball, when the Big East Conference ruled the college basketball universe and coaches nearly got into fistfights on the street after a game. Before the money came in. When gambling was still illegal and the night's losing bettors might come after you as you left the arena.
"We walked slow when we won and we walked fast when we lost," said Pitino, who grew up on 26th St. between Second and Third Avenues in Manhattan. He even named the parish.
The Big East conference has changed a lot since Pitino coached at Louisville a decade ago. (Full disclosure, I work for Seton Hall University, another member of the Big East Conference.)

St. John's wants those days back. Not the part about being broke, and the gambling is now all legal, but St. John's wants the wins like Carnesecca could stack them up. And there was the man himself to offer a benediction of sorts with a face that bore each of his years but still those eyes.
"I think it's a home run with the bases loaded," Carnesecca cracked.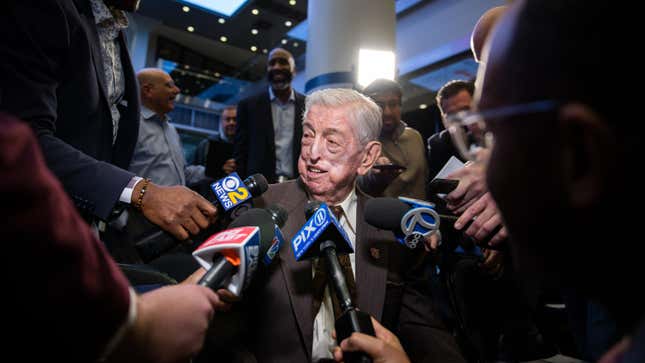 But whatever the flaws, oh, Pitino is an excellent coach. Iona overachieved with Pitino at the helm, reaching the NCAA men's basketball tournament twice in his three seasons with the MAAC's automatic bid. He could not, however, win a game, and for a conference with an automatic bid, getting a round deeper unlocks real money.
He really got them as far as he probably could. He proved he could take a small program just as seriously as a national contender. That he could lead a program without scandal. A Roman Catholic program even. It's fitting that Iona and now St. John's were the ones to offer Pitino a second chance after he coached in Greece. Basketball's roots are entwined with the church all over New York City.

Why did he deserve this chance, he was gently asked.
"It doesn't matter what you believe or don't believe… I never cheated the game," Pitino said.
Where Big East Commissioner Val Ackerman and St. John's athletic director Mike Craig talked about what it would mean for St. John's to be successful again, Pitino was the only one that alluded to his time in exile.

"Nobody really wanted to hire me at that point," Pitino said. "The NCAA unfortunately moves at a snail's pace." It took five years for the case to come up, and Pitino said where other people were found culpable, his involvement was deemed more minimal.

Pitino is obsessed with basketball. "A lot of these players probably won't be back on this team because they're probably not a good fit for me," Pitino said, alluding to a basketball-first mindset.

And that can be good and bad. It's great for the wins column, but St. John's will need to put structures in place to make sure that the non-basketball things don't fall through the cracks. It's exciting to have Pitino come back to New York, but St. John's needs to learn from history. Pretending nothing happened isn't a good strategy.

Billy Donovan put in a good word for Pitino
Father Shanley said what tipped the scales in Pitino's favor was a call from Billy Donovan, another coach in the New York City orbit who played for Pitino long ago.

"He didn't talk about the wins," Shanley said, "Billy talked about the impact Pitino had on his life."

At their best, this is what college coaches do. Win-first coaches should coach in the pros, where players are adults. The college level is where that guidance is important, so it's right that that kind of information swayed Shanley. And Pitino has to live up to the best of those hopes for his players.

This isn't the moment anyone wanted to think about anything other than the glory days to come, where old New York merges with the new one. Where it was always the Red Storm. It's a freshly minted start for an excellent coach, and a day for New York basketball to dream.