It's hard to believe that Ricky Rubio is still just 26 years old. Maybe that's because, by virtue of the fact that he and Nikola Pekovic are the only two players on the Timberwolves' roster that were there in 2011, he qualifies as something of a grizzled veteran on this team. Insomuch as NBA teams have talismans, he's also that, and he's been a fitting one for a Wolves squad that has yet to find its footing.

Ohtani has the WBC, but will Mike Trout ever lead the Angels to a championship? | Agree to Disagree
There's little doubt that the combined talents of Karl-Anthony Towns and Andrew Wiggins will eventually turn the Wolves into at least a playoff team. But there have been questions about whether Rubio's presence on the team will accelerate or hinder their ascension. Rubio's always been consistent about what he provides: In the neighborhood of 10 points, nine assists, and four rebounds per game, plenty of steals and solid defending, and some of the worst shooting you'll ever see from an NBA guard.
Can you win with a point guard like that? Rajon Rondo's championship run with the Celtics would seem to offer proof that you can, but there doesn't appear to be much room in the modern NBA for oddball guards like that. Rondo's now a castoff who can barely get on the court for a shitty Bulls team, and the league is dominated by offenses built around point guards who can shoot from the concourse.
And that's a bummer. Basketball is more fun when there's less homogeny, and it seems unfair that a guy like Rubio, who could throw a bounce pass through the eyelet on your shoe, can't figure into a winning team. A lot of "What's wrong with the Wolves?!?!" hand-wringing was done this season, and potential solutions almost always seemed to involve trading Rubio away.
G/O Media may get a commission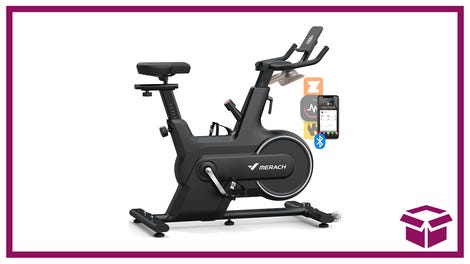 14% off + Coupon
Merach Indoor Cycling Bike
But, hey, look at this: Ricky Rubio has been kicking ass lately. Last night against the Wizards, Rubio scored 22 points on 8-of-15 shooting and dished 19 assists. This one was particularly buttery:
Since the All-Star break, Rubio is averaging 14 points, 11 assists, and five rebounds per game. Most importantly, he's shooting 45 percent from the floor and 39 percent from behind the arc over that stretch. The Wolves are 6-3 since the break, and have knocked off the Warriors, Clippers, Jazz, and Wizards in recent days.
Since any post about Ricky Rubio is partly just an excuse to post clips of dope passes, here's another highlight-reel pass from the Wolves' win over the Jazz
I mean, whatever, it's the dog days of the NBA season and a 6-3 run doesn't really mean much. Rubio's season shooting percentage is still just 40 percent (that's a career high—yikes), and there's plenty of reason to believe that this brief hot streak portends absolutely nothing for Rubio and Wolves' future. It's still nice to see Rubio guide this team on a nice run of victories with some unimpeachably brilliant basketball, though, and to think about what a winning Wolves team, with Rubio at its helm, might look like.