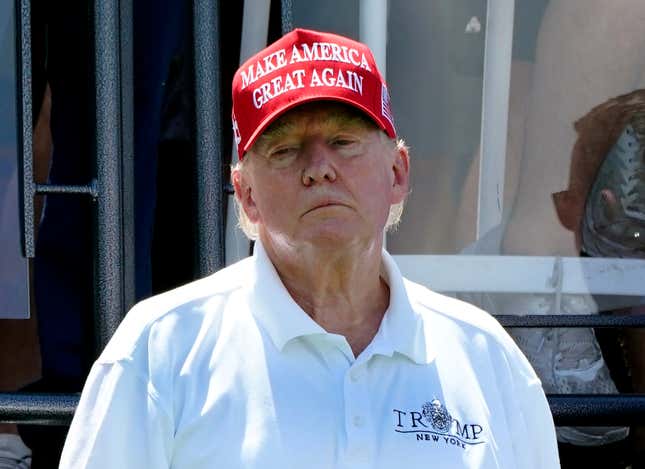 After four indictments, the mental gymnastics required to equivocate for Trump requires advanced parkour skills. As of now, the former president faces 91 charges — between Miami, New York, Washington D.C., and Atlanta — which are enough to fill out an entire regional tournament bracket. It can be daunting to grasp the depths of what Donald Trump is accused of. Thankfully, he was also allegedly equally messy and left fingerprints everywhere.

An American Pastime: Booing politicians at sporting events
Tuesday's RICO charges didn't just target Trump, but the entire omertà operation. Nineteen individuals were charged in connection with Team 45's alleged attempts to rig the game by launching a scheme to unlawfully overturn Georgia's election results and prevent the certification of votes.
Before we get into it, it's worth noting that Trump has denied any and all wrongdoing and has promised to release information proving his innocence in a press conference on Monday.
What do RICO charges mean?
Fani Willis' indictment represents the most accurate example of the pervasiveness of Trump's alleged rot. This wasn't a one-man band, but a scheme run by grifters in cahoots. To put it plainly for those who aren't that politically-minded, Trumpism is a team sport, and stealing an election was their go-to playbook call (allegedly).
The drumbeat of backers shouting "BANANA REPUBLIC!" roared in the aftermath of the grand jury's decision, but the irony is that the allegations laid out claim that Team 45 ran the playbook of an actual banana republic government by trying to remain in office. By supporting a rancid movement, they're mirroring another established operation that faced RICO charges and has essentially operated as a fringe criminal enterprise.
FIFA corruption is the boogeyman David Stern, Adam Silver or any zebra accused of making a bad call or being impartial are suspected of being. Disgraced NBA ref Tim Donaghy scarred the NBA, but he didn't have the reach to impact the entire league at a macro level. Trump as President was the equivalent of Tim Donaghy if the NBA voted him Commissioner after he finished his bid.
How FIFA went down
For decades, FIFA used its chief export as a means to line the pockets of its leadership, screw over smaller nations, and award corrupt politicians further up the ladder who cooperate with them. If the New Jersey Generals' failed team owner had run for CONCACAF chief instead of a disaster class presidency he'd have better odds of avoiding prison.
FIFA's asylum of unscrupulous avaricious politicians hit their nadir in 2015 when the Department of Justice raided a hotel in Switzerland and charged over a dozen soccer officials as part of a RICO investigation (led by Attorney General Loretta Lynch) that accused the organization of "corruption that is rampant, systemic, and deep-rooted both abroad and here in the United States."
Ironically, the entire probe began with former CONCACAF General Secretary Chuck Blazer wearing a wire following his 2011 run-in with the FBI on Fifth Avenue in Manhattan blocks away from his Trump Tower residence. Birds of a feather flock together.
Trump allegedly trying to shave off 11,780 votes in Georgia takes the cake, but FIFA has been rife with point-shaving and match-fixing accusations that were swept under the rug. A 2014 New York Times investigation uncovered evidence of officials being bribed to manipulate the outcome of as many as 15 exhibition matches leading up to the 2010 World Cup by a shadowy syndicate referred to as Football 4U International.
In 2016, five betting operators flagged irregular betting patterns during a World Cup qualifying match between South Africa and Senegal and traced it to "intentional wrong decisions" by Ghanaian referee Joseph Lamptey.
Stealing elections? FIFA allegedly does that too. During his own trial, former FIFA President Sepp Blatter was accused of bribing UEFA president Michael Platini with a two million franc bribe in exchange for Platini using his influence among European federations to swing the 2011 FIFA reelection challenge by Mohamed bin Hamman of Qatar in Blatter's direction. Three days before the election, Bin Hamman was suspended by FIFA's ethics committee due to allegations he had bribed Caribbean Football Union members. Both Sepp and Platini were eventually acquitted by a Swiss court.
Blatter's trial defense team that the FIFA president was merely fulfilling a handshake agreement for back pay owed to Platini a decade earlier when FIFA was practicing austerity. Team 45's strategy is more incoherent. Almost three years later, Trump still hasn't delivered the goods on the election that was stolen. His challenges were thrown out of over 60 courtrooms and when that didn't work, he turned on Republicans who wouldn't agree to his omertà, which ultimately led to the Georgia Secretary of State's recording his revelatory "11,780 votes" request.
David Yallop's 1999 book "How They Stole the Game" recounts how Blatter's successor, João Havelenge, pimped out the sport that had become a global religion. Now imagine a more unscrupulous, deranged version of FIFA leadership running this country. FIFA's awarding of the most recent men's World Cup to Qatar was rife with bribery allegations. Meanwhile, FIFA's bribery trickled down to an influx of migrant workers, who were placed in squalor. Thousands of them died constructing the infrastructure one of the world's hottest and wealthiest nations needed to host the tournament. FIFA contributed to Brazil's infamous construction industry grift by awarding a World Cup that cost triple what was initially estimated to build a dozen stadiums that have collected cobwebs for a decade.
If the allegations in the multiple indictments against Trump are true, the former POTUS dabbled in the most illicit conspiracy enterprise in American political history and probably still isn't done trying. Republicans are hypocrites. The right mocks soccer, but Fani Willis' indictment exposed a president who didn't just want a banana republic, he almost turned us into something worse, FIFA.
Follow DJ Dunson on Twitter: @cerebralsportex