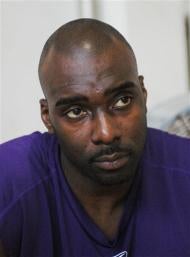 Former NBA player Aaron McKie was nabbed for minor gun charges a couple of weeks ago, which prompted some of his soon-to-be Gladwyne, Pa. neighbors to start their own pamphleteering club in an attempt to warn others about his impending arrival.
According to the Philadelphia Inquirer, anonymous flyers were found in the mailboxes of many residents in the upper class neighborhood where Mckie is having a mansion built. The person behind it hasn't been caught, but their message was clear:
Attention please, read if you care about your neighborhood!!! How can we prevent Aaron McKie from moving into our safe and peaceful neighborhood. His house is almost complete on Youngsford Road. Let's prevent another Iverson from moving in!
Mckie was charged last week for attempting to purchase two guns while under a protection-from-abuse order, but his lawyer claims it was an honest mistake. Most of the Gladwyne residents who received the flyer are outraged and say they have no problem with McKie moving into their neighborhood. But his crimes are enough of a blemish to worry some, including longtime Gladwyne resident Bobbie Willoughby, who happily let the paper quote her for this story:
"It's a little scary. He totes a gun, and his behavior is a little excessive, like he's out of control. I wouldn't care if an African American moved in next to me, but if he's carrying a gun and he's abusive, I really don't want it," she said.
Bobbie first asked, 'What color is he?', then made a knowing gesture to the reporter before she was quoted.
Anti-Mckie Flyer Angers Gladwyne Neighbors [Inquirer]