Rob Gronkowski broke his left forearm back in November, and had surgery to fix it. He returned for Week 17, played sparingly, then broke his left forearm in the Patriots' first playoff game. It's easy enough to jump to the conclusion that he came back too soon, that he wasn't completely healed up yet. But the reality is both better and worse for him and the Patriots—his arm was as durable as it's ever going to be, but might never be 100 percent again.
The Boston Herald talked to a bunch of orthopedic surgeons who have conflicting opinions about Gronkowski's ability to take stress after his first surgery.
"If he heals it, it's one thing, but he has to actually have the strength to tolerate the amount of impact that these guys tolerate on a play-to-play basis," said Forsh. "(Healing) sometimes takes a little more time for a bone to develop its strength again to retake that impact. . . . On an X-ray you look at it and say, 'Oh, the bone is healed.' That may or may not necessarily say that he can tolerate the load that he sustained during a simple fall like that."
Bill Belichick defended the decision to play Gronkowski, in a very Bill Belichick way:
Asked if to the best of his knowledge Gronkowski was 100 percent ready to play, Belichick said, "I covered that [Sunday], he was cleared medically. I don't have anything to add to it.''
Was he told there was any added risk putting Gronkowski on the field? "I have nothing to add to it,'' he replied.

When asked about the process he used to evaluate whether an injured player was ready or not, a clearly agitated Belichick replied, "I . . . have . . . nothing . . . to . . . add . . . to . . . it.''
G/O Media may get a commission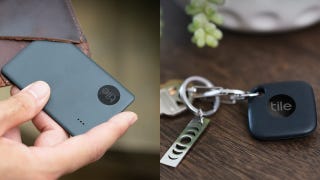 Up to 35% off
Tile Item Trackers
Well, Gronkowski had another surgery yesterday, and it was discovered that the second break is in a completely different place than the first—that it wasn't a reaggravation of the initial injury. According to CSN New England, the new fracture—sustained when Gronkowski awkwardly broke his fall with the arm—"had nothing to do with whether the arm was ready or not." That absolves the Patriots and their medical staff of any blame.
The CSN report goes a bit further, though, and this is the disheartening part. The arm broke at the end of the protective metal plate installed in Gronkowski's arm. This isn't a coincidence—the plate "funnels" stresses to the ends, leaving those areas more susceptible to future fractures. As long as Gronk has that plate, he'll be at risk of more breaks. Depending on the injury, some plates are left in for a year or two, and some remain forever. Two fractures in two months mean Gronkowski's going to be very aware of what he does with that left arm going forward.