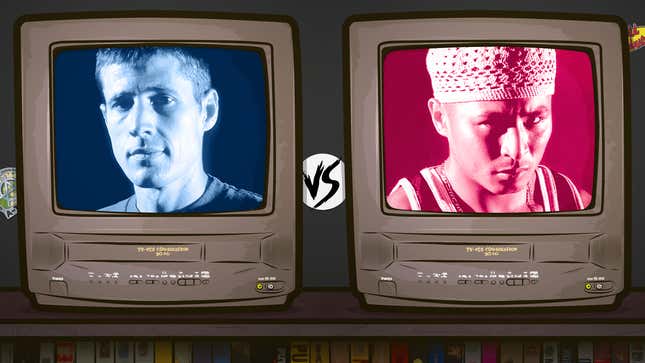 The opening title credits for "Rodney Mullen Vs. Daewon Song" fly onto the screen like text in a remedial PowerPoint presentation. The picture is grainy, as almost all VHS tapes were, and cuts bounce into each other instead of sliding with contemporary digital smoothness. The black background and white lettering is clean and simple; everything is raw, seemingly as much by necessity as by choice. No one involved was trying to win an Oscar.

How running an NFL team is like running a restaurant | Chef Emeril Lagasse
When the title finally hits, it arrives with a bell signaling the start of the first round. It's Song who opens the video and not Mullen, the more well-known skater at the time. The sound of samurai-movie swordplay evokes early Wu-Tang albums, and then Song cruises into the picture and pops a big 360 kickflip over a dirt patch at lightning speed.
"I was blown away," Tony Hawk says about the first time he saw the video. "I was blown away that anyone could kind of shine next to Rodney."
I ask him what that means.
"Because Rodney was such an enigma and his tricks are so progressive and difficult, it just seemed like no one could even touch him back then," Hawk says. "To see someone step up and do and—I don't want to say the same skill set, but a similar skill set—use it in a totally different way, was really exciting."
We get three minutes of this. Three minutes of Song blasting through schoolyards in Southern California with an edge and style so natural and fast it makes supremely difficult moves look unchallenging. He progresses, linking tricks and making lines. It is astonishing because of how easy it all looks.
And then there's another bell, and Mullen's part begins. He's not quite as graceful or as fast as Song, but what he does is far ahead of its time. It will seem new even if you don't understand the historical context in which he was making these moves. More impressively, it will look new even if you do. Mullen takes what he perfected on the flatland of freestyle and moves it to the more open realm of street. He takes on boxes, tables, and ledges. His patented flip tricks and ability to blend old-school tricks with the new world of street skating feels fresh, even and maybe especially due to the surrounding 1998 anti-aesthetics. A generation of skaters who knew Mullen mostly as myth—he skated alone, and despite parts and even moments of awe in other videos, he had been seldom seen since the end of the first World video, "Rubbish Heap," 10 years earlier—were suddenly able to see and understand just how good the skater behind the legend was.

The second half of Mullen's part is filmed with The Doors "People Are Strange" playing in the background. He works his magic in public, in front of people and crowds, blending in at first and then stepping out. People walk by and ignore him as Jim Morrison sings "people are strange when you're a stranger/faces look ugly when you're alone." At one point, a protest unfolds in the background as Mullen works his flatland routine, showing off his technical skill and shutting out the world's distractions.
"I knew it would open his skating up to a new audience and a new appreciation," Hawk says. "Because all of this flatland stuff before that, not that it was unnoticed, it was misunderstood or it was more incomprehensible. When he adapted that stuff to street that's when people really took notice because that's what they identified with, that's what they understood."
What Mullen was doing in his years away from the crowd was so far out there it didn't compute. He didn't move boards or sell gear because he wasn't street enough. He wasn't Andrew Reynolds popping ollies down huge sets of stairs or Hawk ripping up vert or Danny Way flying as high as anyone had ever dreamed. "It was more like, 'Whatever he's doing over there is crazy, but it's not what we're doing,'" Hawk says. "Then he took that to the street and it was like, 'Oh shit, look at him. He's way beyond anything we have ever imagined.'"
It's difficult to overstate how much this video meant for both Song and Mullen. Friends argued over who won and who lost. The battle was a contrast in styles between similar but different skaters, but it was also a way for younger skaters to see themselves in these two virtuosos.
If you liked speed and balance, you thought Song won and wanted to be him in any skateboarding video game. (He wasn't in Tony Hawk's Pro Skater until Tony Hawk's American Wasteland, the seventh game in the series, was released in 2005.) If you loved Mullen's ability to flip and controls the board, then you picked him so you could do casper, primo, and darkslide grinds, tricks Mullen invented and perfected, and that still boggle the mind. "Rodney Mullen Vs. Daewon Song" changed two careers, and it changed the sport.
It almost didn't happen.
---
In 1997, Song had drifted away from skateboarding. The sport had taken him from a messy home life and gang-banging in a rough part of Los Angeles, but gave up on it and moved into an apartment in Huntington Beach with a girlfriend, who was involved with the Bloods. He stopped skateboarding for a year, and considered quitting.

Mullen, skateboarding's savant and premier innovator, was struggling with big questions as well. He didn't know where he fit into the landscape. He was struggling to figure out his transformation into a "street skater." There was more money in the sport than when Mullen started, thanks to the X Games and a growing interest in the sport. But Mullen was an outsider to both, and World Industries, the skate company he helped start in 1989, was on the brink of bankruptcy and losing its sponsored skateboarders in bunches.
"I did have a hard time with the exodus at World," Mullen told me in an email. "Not only did it threaten to put us out of business, it was much more than business. Bankruptcy lingered like an eventuality, but the ramifications of it all… reached to my very identity through what I'd built as a skater, which is more important and permanent than any business could or would ever be. Many [of the skaters that left] were friends, and it's a small community that, of course, I treasure. So it all stung."
One night, during one of the ritualistic late night skate sessions for which Mullen had become known, he told Song he'd understand if he left for a new label. Mullen knew staying on World was a sacrifice as skaters began starting their own brands. The two had met seven years prior on the streets of Los Angeles, and Mullen gave Song his first sponsorship deal. At the time, Mullen was a legend and Song was a teenager from Gardena. Their chance meeting changed Song's life, and he wasn't going to turn his back on that. "Well," Mullen remembered Song telling him, "I guess it's just us, then."
"That kind of unflinching loyalty in the face of real consequence...has stuck with me ever since," Mullen told me on the phone. "[It] forged our bond into an altogether unbreakable one, no matter what happens or how much time goes by."
Song called a friend and started filming right away for the next World video, "Trilogy." World was stepping back from the brink and towards a renaissance, thanks in large part to the creation of two cartoon characters, Wet Willy and Flameboy. The company's boards and merchandise became instant successes. At the same time, Mullen and Song began brainstorming a skate video more ambitious than any they'd made before. They started joking about a video where they "competed" with each other. Then they stopped joking and began filming.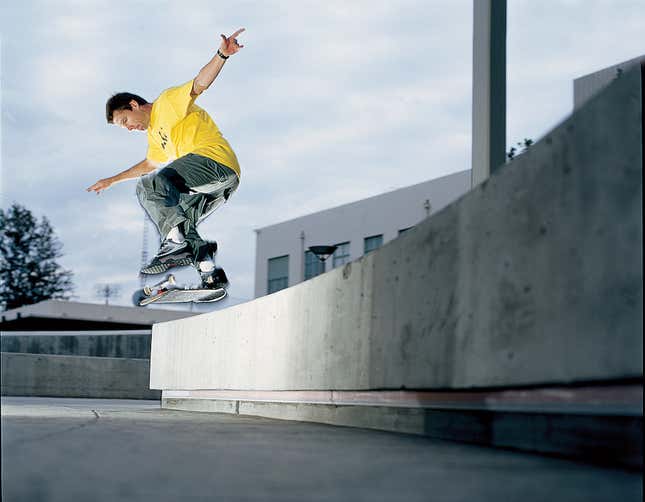 ---
Mullen started skateboarding when he was 10 years old. It was 1977 and he was living in Gainesville, Florida. He'd seen his sister's surfer friends tooling around on some boards and decided to try it. After making a deal with his father that he'd quit when he started high school or after his first serious injury, Mullen got on his first board. He became obsessed.

Many skaters have similar stories, but Mullen happened to be a genius. He finished fifth in the freestyle competition at the 1978 U.S. Open Championship in Jacksonville, Florida and got his first sponsorship. When his family moved to rural Florida, Mullen dedicated more time to perfecting his flat-ground technique on the cement floor of the family barn.
When he was 14, Mullen won his first professional competition, defeating Steve Rocco, who was considered the best flatland skater at the time. He joined Powell Peralta's famed Bones Brigade, the now famous skate team that included the best and most influential skaters of all time: Tony Hawk, Mike Vallely, Steve Caballero, Andy Macdonald, Bucky Lasek, Brandon Novak, Danny Way, and Chris Senn. Through the 1980's, Mullen established himself as skateboarding's premier trick creator. He entered 35 competitions during that period and won 34.
By 1989, skateboarding began to shift away from vert and freestyle competitions and towards street skating, where skaters used everyday obstacles as a launching point for new tricks and grinds. Mullen, ever the perfectionist, struggled to adapt. As World pushed this new wave of skating, Mullen found it hard to fit in with the rest of the crew. Instead, he threw himself into a new role at World as The Responsible One, making boards and carting team members around, creating new board designs and dimensions, working to expand the shape, size and durability of boards. Mullen also began patenting his work on all parts of skateboards, including the trucks.
By night, Mullen skated around Los Angeles by himself. "I came from freestyle and they retired my board," Mullen says. "And, believe me, I was all for that. I had given up. I did not want to be marketed as something that I am not, ever. I remember at that stage, Okay, well, I'm done. I would just go skating around, trying to street skate a little bit for fun, like, Hey, it's fun. It was a new experience. It wasn't like ambition." It was on one of those skate odysseys, in 1990, that Mullen came across a young Korean-American kid skating in front of Adams Middle School in the southern part of Los Angeles.
Mullen had seen the kid once before, outside the church on Rosecrans Avenue that Mullen attended; on that day, the pastor told Mullen that the hookers down the block were still working from the night before. When Mullen saw him that day, Song was pushing off a launch ramp.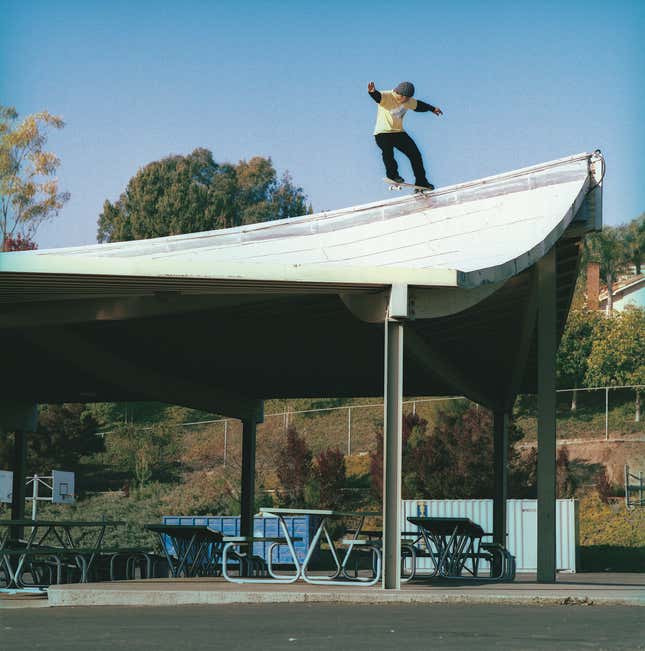 Song had seen Mullen, too. "I use to go to this church near my house off of Crenshaw Boulevard. I would go there to skate this launch ramp," Song says. "And I remember one day seeing Rodney come out of this church, because somehow he went to that church. He came up to me and was like, 'Hey, that's pretty good.' I really didn't know who it was."

Mullen skated alone on the tennis courts at the Adams Middle School, and Song would see him there when he and his friends would hit up the fire hydrant in front of the school. They'd do tricks over it, testing how high they could pop their boards off the ground. One night, Mullen remembers seeing Song do a backside 180 over the hydrant. "You could see him kicking across the parking lot, just doing a couple ollies, that is seriously all it took," Mullen says. "That's how strong his gift shined."
At the time, Song's home life was difficult and the rough streets of Los Angeles held a dark allure. Song's family didn't want him to skateboard, but Mullen did. He offered Song a spot on World's amateur team and started giving him free gear and decks. World was in the middle of reinventing the skateboard industry, and Rocco, who'd founded the company and sold Mullen on investing in it, was going after the established heads in the businesses. Mullen found himself playing the adult in the room by default, working to rein in costs and bringing skaters water or food or new setups while the rest of the team drank and partied between skate sessions. And then, while the party raged in hotels, Mullen would grab his board and quietly sneak out into the darkness to skate. Often, Song would follow.
"We'd go out in the parking lot and skate," Song says. "I'd watch him do things and we would try things together and feed of each other, but me more of feeding off of him, and exchanging stories too. Basically, talking about how we grew up. Once you start connecting with people, you share a lot of interests and stuff like that. It became this thing where we ended up having this bond and became like brothers."
Mullen was already a legend, but he was trying to find himself. He'd always been different, but now he was 30, and a master of a style that the world had seemingly left behind. Skateboarding by its nature is a young person's sport; skaters compete and push one another while jabbing each other each with insults at any turn, then leave it behind for 9-to-5 jobs once the partying and the falls become too much. In a sport built on pushing boundaries, Mullen wasn't pushing anymore. He'd invented all the tricks his peers were doing, but he didn't do them the same way. In Song, Mullen found both a confidant and an inspiration. Mullen took Song on as a protege, and Song passively started teaching Mullen—who was then still releasing parts in videos and considered one of the best skaters alive—a new style of skating.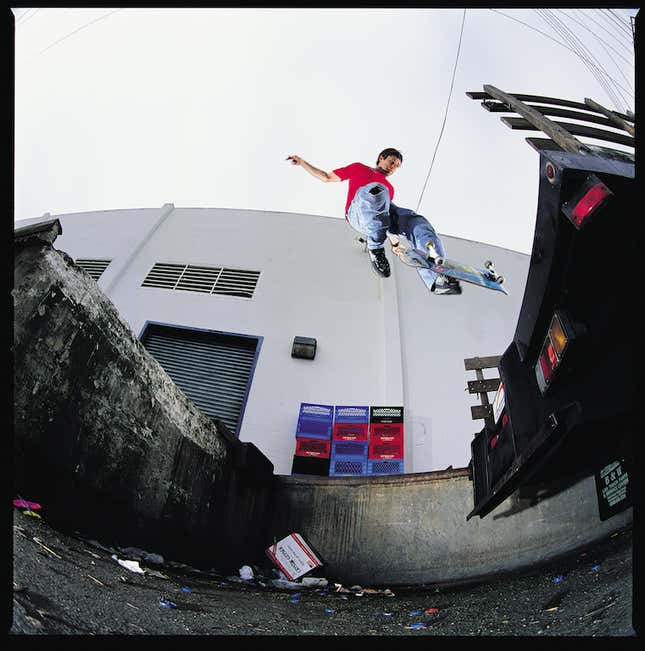 "As I am learning this stuff, [I kept] quiet, just keep your mouth shut, and learn basics," Mullen says. "I am doing my own thing, of course I have my own style or whatever. I'm catching on, but believe me, I am low. I am a beginner again. Daewon was an up and coming amateur, [and] in a way I felt that way too. You need someone up here to sound things out, I got this; I got that, to encourage and then to feel that encouragement."

Mullen repaid Song by taking him under his wing. "He stood up for me and did all this stuff," Song said. "Man, when I got on the team and started getting stuff there were a lot of people in the industry, and within the same company I was supposedly riding for, that didn't really want me on the team. But Rodney stood there and put a wall around me and said, 'No one is touching him. I want him to be apart of this and whoever doesn't, you can just walk, and you can't touch him.' That's what I believe."
"I think there was a lot to be said for getting Rodney's nod of approval," Hawk says. "From the hardcore side of it, yeah, he must be super good if Rodney thinks he's good. I remember Rodney talking about him, too. 'I skated with this kid Daewon, he does all this.' I was like, 'Gnarly.'"
---
Competition has always been a part of it, but skateboarding was built on the idea of freedom—the freedom to rip through streets as fast as possible, the freedom to hop fences and shred empty pools. The money came once competitions were introduced, but competitions weren't how riders got rich. The way to make money was through board sales, which correlated with how cool their boards looked and how good their parts in videos and magazine photo shoots were. There was no Instagram, YouTube, or Snapchat at that time. There was no real individual brand through back channels. Skaters got noticed for their ability, personality and persona.

To be cool is to be in tune with the trends in skateboarding. Tricks go in and out of fashion and style is subjective, but there's a certain flow and movement that sticks as trends shift. The only way to stay on top of what was hot was to film often and be ready for when your sponsors wanted to release a new tape, which would hopefully push sales and move the industry forward. Among his peers, Song was known for his obsession with filming and skating. The results helped build his reputation. "He was always ahead, footage-wise," Mullen says.
One of the people who would film Song was Socrates Leal, a fellow Los Angeles native. The pair were supposed to compete one day on a ramp at the church that Mullen attended. Instead, they became friends; their career paths diverged without ever quite dividing. Socrates got his first camera in 1990 and began filming at any free moment, recording over old tape if he had to. Through Song, he got involved with the World crew and Mullen hired him to be the team's cinematographer. Mullen began filming with him, trusting him with the small amounts of footage he was okay with releasing.
While Mullen navigated this transition, the mood at World started to fray. Riders started competing with one another and distrusting Rocco. "Guys would hide their footage because this guy might be biting my trick or biting my spot or one upping in my spot." Mullen says. "That had never had happened [before]. That's not the mentality, but it creeps in because it's human nature. We were put together that way."
Skaters at World, and specifically World's Plan B sub-team, began hiding footage from each other. The environment was toxic, and riders left to start their own projects; Mike Carroll and Rick Howard started Girl, the most notable. Mullen and Song, instead, found themselves calling one another about tricks they were working on or landing.
"We had that rare bond of calling and boasting and giving each other a hard time. He'd call me like, 'I'm on this,' or 'I got it,' or 'I'm just on it.' I'd do the same, like, 'Fuck, I tried all day and I can't make it.' We support each other," Mullen says. "And for me coming from freestyle into that other world, I needed a friend in that way—where you can just lay it all out. Very transparent, just a real friend, and Daewon was always that."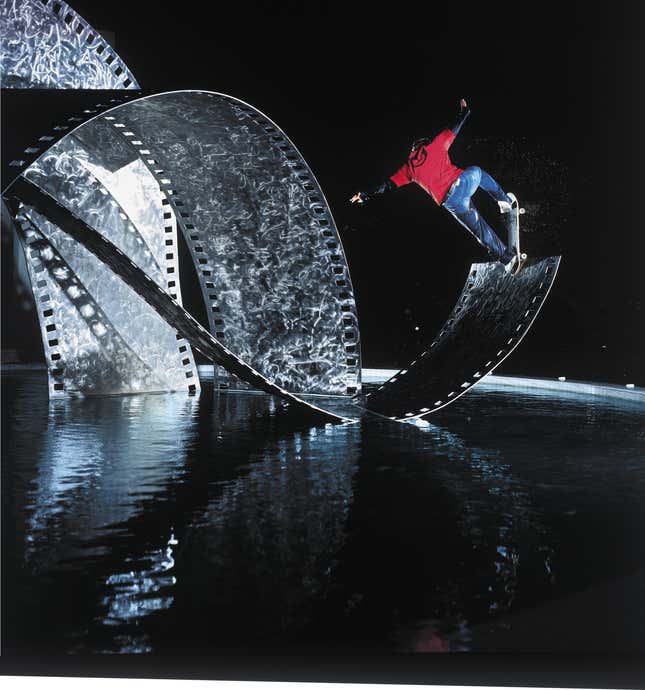 As World splintered, Mullen and Song realized that the footage they worked on was special and were psyched about it. They brainstormed and came up with a competition between two friends. They didn't want some lovey-dovey video about their admiration for one another. No one would have bought that. "It's not a team sport," Mullen says. "The teams are just constructs to sell stuff, Your friends are who your friends are and it doesn't matter who they skate for. That should be what it is. That, to me, was a real pure statement of what the relationships are, what skating is, who we are. If you had eyes to see, you would have seen that bond, [which was] more than me and Plan B and maybe him more than World, although that was tight, that really was a team. It just made the most sense to me... to not have anyone but us."

The idea of the competition between the pair made sense, it allowed them to show off new tricks and create a certain type of hype. It gave them the freedom to explore their own friendship and try to show the other what they'd been working on in a new way. They asked other skaters if they had tape they wanted to contribute. Not the customary three-minute part, but something short, like a teaser. Skaters bought in.
---
After the release of "Rodney Mullen Vs. Daewon Song," World Industries founders sold 70 percent of the interest in the company to Kubic Marketing for $29 million. The company has been sold a few times since, including a full sale to Globe International for $46 million in 2002. Song started his own clothing company, Matix, and multiple board companies, first Deca and then Artifact. He reunited with Mullen to help start Almost in 2003. Mullen had spent the years between the sale of World and the start of Almost starting his own board company, Enjoi, and creating Tensor trucks. The pair released two more "Rodney Mullen Vs. Daewon Song" videos.

Song was named Thrasher's Skater of the Year in 2006; Mullen mostly kept to himself. He put his parts out, but those hours of practice and the subsequent falls took their toll on his body. In 2014, Mullen released the first footage of himself skateboarding in nine years. The pair have stayed close friends, though, even as their lives have drifted apart. Mullen has become a sought-after public speaker, has been featured on TED Talks, and was the skateboard stand-in for Ben Stiller in The Secret Life of Walter Mitty.
Song still skates every day. "I get up in the morning and I'm 42. I go to the skatepark and I'm like 'What up, Kyle? What up, dawg? What's up, Brian?' And these [guys], one is 16 and one is 18 and one is really old—he's 22. These are guys I'm skating with," he says. "Everything I am surrounded by now, I'm surrounded by youth in skateboarding and stuff like that. And it's one thing there is no label to it; it's just get out there and enjoy it. It keeps you young as well."
---
Paul Rodriguez was 12 years old when he first saw "Rodney Mullen Vs. Daewon Song," in 1998, but the video stuck with him. He'd borrowed it from a friend and watched it every day for a week before having to return it. He later bought his own copy and kept watching it, memorizing every move and copping Song's style of shiny, white leather shoes. Rodriguez also started scouring skate shops for Song's Menace shirt with a pair of boxing gloves on it. He wanted to ride a blank, wood grain board like Song; he wanted the whitest wheels he could find. He wanted to be like the legends he saw on film.

"I grew up in LA, so watching them skate all the fiberglass benches in the school yards, like that was stuff I had access to," Rodriguez says. "That made me want to go outside like, 'Yo, the school down the street from my house has those benches. I want to go be like Daewon. I want to go be like Rodney.' Those are the type of obstacles I wanted to skate—putting the tables up the stairs, down the stairs and just messing with it."
Rodriguez became a professional skateboarder in 2002, four years after "Rodney Mullen Vs. Daewon Song" came out. He spent the years between skating every day, falling in love with the sport. In 2011, he was named one of the 30 Most Influential Skateboarders by Transworld Skateboarding magazine. He's skated around the world, including a chance to grind the railings at Stamford Bridge, but the old skate videos still retain their old magic for him, even as skating has crossed the lines with high fashion, art and music. Nike and Adidas have skate teams now; skaters drive Lamborghinis. There's still an outlaw culture to it, but the sport has grown up, to the point where it's hard to imagine a video like "Rodney Mullen Vs. Daewon Song"—an unpolished video thrown together by two friends—might never come out again. For all the sport has gained since then, and for all the potential that video unlocked, times have once again changed.
"People are way too critical these days," Rodriguez says. "They would eat somebody alive for filming like that these days. But back then, it was just capturing them in the wild—raw, natural."