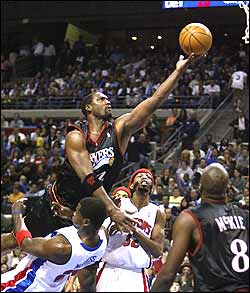 Former NBAer Rodney Rogers fell off an all-terrain vehicle last week and suffered a spinal cord injury that has left him paralyzed from the shoulders down. There's still a chance that the injury won't be permanent and he has already begun rehabilitation in Atlanta, but it's certainly sad news for the former Wake Forest star who was born and raised in Durham and moved back there after his 12-year NBA career ended. Still, we couldn't help but smile at this tidbit from his post-basketball career.
That love of big trucks led to his present job as a heavy equipment operator for the city of Durham's Public Works Department. Rogers "is financially set," Williams said, but he wanted demanding daily work.

"Rodney isn't the type to sit around twiddling his thumbs. There aren't any jobs he considers too small for him," Williams said. "He started his own trucking company and was usually the lead driver. He'd be out there driving to the quarry at 3:30 in the morning."
A retired millionaire who gets up at 3:30 a.m. to drive heavy trucks down to the quarry? I hope he gets better, because I have got to see that. (Seriously, get better, Rodney.)
Rodney Rogers is severely injured [Raleigh-Durham News-Observer]
The sad case of Rodney Rogers... [Denver Stiffs]