Roger Federer dropped his third round Italian Open match, 4-6, 7-6 (2), 7-6 (4), to Richard Gasquet yesterday. "I definitely feel I should never have lost this match," Federer said afterwards. "I just couldn't come up with the shots." This one, of all shots, he came up with.
It is, to borrow from the announcer, rather outrageous. After overstepping his forehand on what must have been a bad bounce — because how else would Federer be out of position? — he chose not to adjust his footing or to shorten his swing to get to the shot, but decided, in that fraction of a second that he had to decide, that he could get a better shot by dropping his racket between his legs. If you've somehow missed David Foster Wallace's August 2006 epic on Federer, or if you've only read it five times instead of 30, then it's worth recalling this point for this particular point:
If you've watched tennis only on television, you simply have no idea how hard these pros are hitting the ball, how fast the ball is moving, how little time the players have to get to it, and how quickly they're able to move and rotate and strike and recover. And none are faster, or more deceptively effortless about it, than Roger Federer.
Video via.
G/O Media may get a commission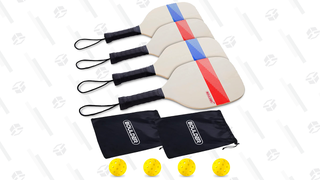 It's Pickleball
Pickleball Sets