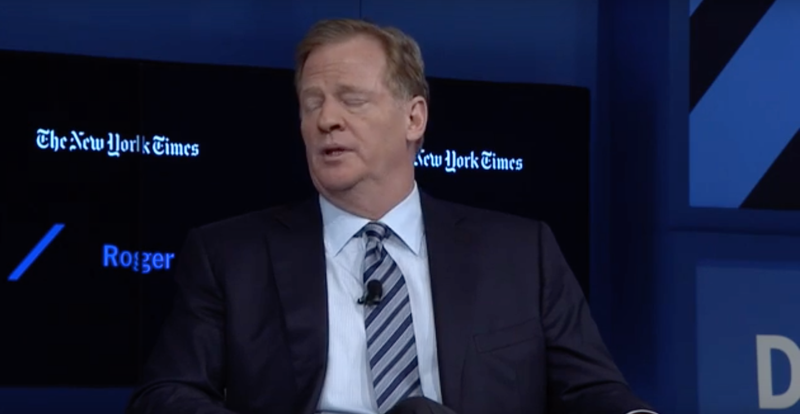 Roger Goodell was interviewed on stage earlier today at the New York Times's DealBook conference. He and Andrew Ross Sorkin spoke about the election intermittently throughout the 30-plus minute conversation. Goodell—the son of a former Republican congressman whose been known to rub elbows with the GOP himself—confessed to being surprised by the outcome and laughed about the missed opportunity to distract our future chicken-nugget-in-chief away from politics by letting him buy the Buffalo Bills.

At the end of the segment, the Sorkin opened it up to questions from the crowd. One woman asked Goodell about plans to target domestic violence; before all involved moved on, he answered by a question about whether Donald Trump's overt disrespect for women makes his job harder by talking about himself.
"Listen," Goodell replied, "it makes my job harder at home, too. I have twin daughters and a wife and so I have to explain that to them. So yes, on that front."
If you're wondering whether father-of-daughters Goodell was just gearing up for a thoughtful answer about domestic violence in a post-Trump world, well.
"Listen, I think our country has to have more respect for one another and we have to unite" he said. "I saw some very positive signs of that yesterday with our current president, Hillary Clinton's comments publicly and others coming together and saying, 'We have to get together, we have to unite, we have to address some of the issues and work together.' President Trump is our president so let's get behind him."
You can watch the entire conversation below. The exact exchange comes in around 34 minutes, but before that you can listen to Goodell on athletes taking a public political stance ("that's their right"), the ratings drop ("you always have cycles"), and ex-players refusing to let their kids play football for fear of concussions ("You'd have a hard time coming up with a lot of names who would say that").

Regarding the overall viability of the NFL going forward, Goodell says, without a hint of irony, "I think we've proven that you can make the game better, safer, and more entertaining. I think you can do all three of them. And we've done that over decades."

Having to say that with a straight face must be difficult; hard times indeed for the Ginger Hammer.