A transcript of Ezekiel Elliott's appeal hearing with the NFL has been made public in court filings of the players' association's lawsuit against the league, and it contains testimony from Lisa Friel, the NFL's senior vice president for investigations, in which she admits that the lead investigator who worked on the case, Kia Roberts, did not believe there was sufficient evidence that Elliott abused Tiffany Thompson, and that Roger Goodell was aware of Roberts's opinion when he decided to suspend Elliott for six games.

Roberts testified that she conducted two lengthy interviews with Thompson, and also had four follow-up conversations with her throughout the course of her investigation. She testified at the appeal hearing this week that she believed Thompson's version of events was not credible. Roberts and Friel authored the report that Goodell used to inform his decision, though Roberts testified that she never met personally with Goodell.
During her testimony, Friel confirmed that Roberts never met with Goodell, and indicated that the report they authored together did not contain any sort of recommendation for how Goodell should proceed. When asked why no recommendation was made, Friel answered:
Friel could not explain why Roberts was never asked to meet with Goodell, telling Jeffrey Kessler, the NFLPA's lawyer, "I don't think anybody prevented her, and I don't know who made the decision that she should or should not directly communicate with the commissioner."
Friel then testified that Roberts did not believe there was enough evidence for the commissioner to pursue a disciplinary case against Elliot, and that she, Friel, personally made Roberts's concerns known to Goodell:

G/O Media may get a commission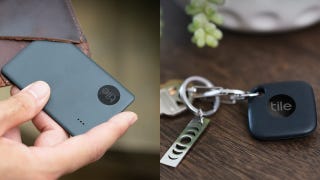 Up to 35% off
Tile Item Trackers
This admission seems to have been a slip by Friel, who previously had invoked attorney-client privilege when asked to talk about her conversations with Goodell. Still, she forged ahead, backtracking a bit about what specifically was said to Goodell and by whom:
(The NFL confirmed this morning that Goodell was made aware of Roberts's belief that there was not sufficient evidence to punish Elliott.)
What followed was an objection from the NFL's lawyer, and a lengthy back-and-forth between the two sides in which the NFLPA's lawyer argued that Friel had now opened up her conversation with Goodell as fair game, and should be forced to testify about Goodell's response to Roberts's opinion. At one point, Kessler floated a theory for why no concrete recommendation was made in Friel and Roberts's report:
This is something that has come up today because today it was revealed, for the first time, what I believe is likely to be the truth, that no one told the Commissioner that his co-lead investigator, who by the way is an experienced prosecutor herself for nine years, reviewed the evidence after being the one who conducted all the interviews and frankly was in a much better position, therefore, than Ms. Friel to make this judgment because she met with all the people — Ms. Friel met with zero in terms of the facts, that the one who met with all the people concluded the evidence was insufficient in a report where they chose not to put in a recommendation. And I now suspect the reason there's no recommendation in this report is because they knew that Ms. Roberts wouldn't sign on to a report that said the evidence was sufficient
Eventually, Friel had to answer the question again:

When Goodell suspended Elliott, he sent a letter which included a list of expert advisors that had helped the commissioner come to his decision:
There was no mention of Friel, and none of these advisors listed were directly involved in the league's investigation.