The Mighty MJD's Smorgasbord runs every Monday. Do enjoy.
• On the CBS pregame, Dan Marino is hammering David Carr for wearing white gloves when he came on in relief of Jake Delhomme ... these fucking Isotoner endorsers think they know everything about gloves, but let me ask you this, Marino ... if David Carr didn't wear white gloves, to whom would Big Tom Callahan sell ketchup popsicles?
• So the Rams are taking the field today with a quarterback with broken ribs and a white starting running back. I don't think the Elias sporting bureau has official stats on such things, but I'm willing to bet that the all-time record of teams with white running backs and QBs with broken ribs is well below .500.
• Derek Anderson ... what the hell. Is it possible that he's actually become a good quarterback, overnight? He was so bad in Week 1 ... and in every week he played last year, for that matter. Since then, though, he's Johnny Unitas ... he opens up against Baltimore today with a TD drive in which he went 4-of-5 and finished it with a TD pass to Joe Jurevicius.
• The start of the Raiders/Dolphins game has been postponed due to weather ... this is the second time in four weeks that that this has happened to the Raiders. I'm telling you, they're doing something to upset God. Within a couple of weeks, some kind of disturbing news is going to break about the Raiders ... like Al Davis is hiding Bin Laden under McAfee Coliseum or something.
• Speaking of which ... Raiders vs. Dolphins in a lightning storm ... that's gotta be a hot ticket. I heard that lower level seats were selling on StubHub for upwards for 45 cents.
G/O Media may get a commission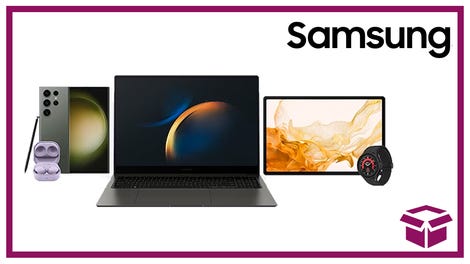 24 hour deals
Discover Samsung - Daily Deal
• In bonus baseball coverage, the Marlins have hung seven runs on Tom Glavine in the top of the 1st inning ... fortunately, the Mets have a great bullpen, so they should be able to get out of this.
• Derek Anderson goes deep to a wide open Braylon Edwards ... and it's already 14-0 Browns. This Ravens defense was exploited last week, and is on the way to being exploited again this week. It's possible that the Steelers main competition in the AFC North will come from Cleveland.
• And Brett Favre is your all-time TD leader, connecting with Greg Jennings (subbing in for his brother Brandon this week) in the 1st quarter. In celebration, Favre picks Jennings up over his shoulders. If Favre ever tries this on one of those tackle-eligible TD passes, he's going to end his career.
• I don't know that I had ever seen this before ... Bills defensive end Chris Kelsey is being blocked, but reaches out and sacks Chad Pennington by swatting him in the face.
• While we're on the subject of Bills, Lee Evans, with new QB Trent Edwards in the game, has, in the first quarter, already put up his biggest game of the year, with 4 catches for 48 yards. I'm starting to think that all that stuff about him having great chemistry with JP Losman was a load of bullshit.
• Daunte Culpepper tosses a short touchdown pass for the Raiders and breaks out his familiar arm-rolling celebration thing ... I don't know if quarterbacks who are subbing in for Josh McCown should get their own celebrations.
• Brian Griese has thrown consecutive completions. He's not going to threaten a perfect quarterback rating today or anything, but ... it's a little striking to see Bears offensive linemen giving congratulatory hugs and pats to their quarterback between plays. It just looks weird.
• Against the Cowboys, Marc Bulger is off to a 5-for-13 start ... apparently, a quarterback needs ribs. I guess an offensive line would help, too ... of course, if Bulger had one of those, he'd probably also have his ribs.
• It's now 24-3 Cleveland ... they're throwing an ass-beating on the Ravens. It doesn't hit me exactly how rare or unexpected a Browns romp is until they show the scoreboard, reading 24-3 ... and then they show Romeo Crennel on the sidelines, who constantly projects an image that's the exact opposite of "We're beating someone's ass." It was like seeing Bears linemen who don't hate their quarterback ... it took a minute to make sense of it.
• And Brian Griese is on the board with a 15-yard touchdown pass to Mushin Muhammad. Grossman can go ahead and get comfortable on the bench with a Grisham novel, while Chicago wide receivers are going to have to get reacquainted to the idea of running routes with their eyes open, because there's now a chance that the ball will get near them.
• The Cowboys center snaps the ball way over Tony Romo's head ... Romo goes back about 30 yards for it, and then turns around and runs about 35 yards for a first down ... somewhere, grandma Romo and her barn stud are very, very, proud.
• 7-7 in the second quarter, Miami hands off to Ronnie Brown in the red zone, and he runs right through a motherfucker for the Dolphins touchdown. Head-on collision, Brown vs. some defensive back ... and Brown just obliterated him.
• Early in the 3rd quarter, the Packers run a fake punt, and Jon Ryan's got some moves. Brian Leonard, you might not even be the best white runner in the NFL today. Jon Ryan might be the best runner on the Packers roster ... I'm not entirely kidding.
• My buddy Adam, a newcomer to our gang here at the sports bar ... asks the waitress for "punch." The Greek yells at him that he's "not a seven-year-old's birthday party."
• Brian Urlacher is shown on the bench roaring in approval at Brian Griese running for like a 5-yard gain. Hmm. It's as if the Bears aren't used to their quarterback making plays.
• Speaking of which ... the Rams have not scored a touchdown in their last 28 drives. With Torry Holt, Marc Bulger and Steven Jackson ... how the fuck does that happen? Doesn't anyone there remember anything Mike Martz told them?
• Griese's picked off just before the half, in the endzone ... that was fun while it lasted.
• Bills quarterback Trent Edwards throws a touchdown pass ... and then, demonstrating his inexperience with the concept, starts jumping around like a drunken aardvark. Still, I prefer that to Daunte Culpepper "getting his roll on."
• Griese, picked off again in the red zone ... this one's not his fault, though, it went off the hands and the chest of Bernard Berrian. So, the total at the moment ... 1 nice TD, 1 crucial INT just before the half, and 1 INT that should have been caught by Bernard Berrian. Still, the Bears lead 13-3 heading into the 4th quarter.
• Derrick Mason is making a short catch every time I look up at the Ravens/Browns game ... and since he's getting his name called a lot, so is Browns corner, Eric Wright. Every time his name is called, I pour some out for Eazy E ... I'm making a mess over here.
• Oh, that's not good ... Brian Griese just Grossman'd that one to Lions DB Keith Smith, and that's going to the house. And the lead is blown ... 17-13 Lions.
• Of course, it helps when you have Devin Hester to erase such mistakes ... he takes the ensuing kickoff to the house.
• The Bills intercept Chad Pennington, and that's a wrap on that game ... man, the Bills and Jets fans here are taking this game really seriously. It's cute when teams' fans pretend that they matter.
• Daunte Culpepper is 5-of-12, with 2 TDs, and a couple of rushing TDs in there, too ... I'd like to ask that he temper his enthusiasm, as he's still 5-of-12, and it's only the Dolphins that he's beating ... but what the hell, he's got a lot of pent-up aggression towards the Dolphins, let's let the man have his fun. And this is also going to go down in history as the greatest ever 5-of-12 fantasy football day.
• It's probably not going to matter, because they were down 14 with 2:00 left ... but Vikings wide receiver Sidney Rice just made an amazing catch in the endzone, leaping over a couple of Packers defenders.
• Check that ... it might matter after all. Brett Favre and Ryan Grant fuck up the handoff, and give the ball right back to the Vikings ... now down 7, near midfield, and more than a minute to play.
• Nevermind, though, the Vikings suck ... they're quickly intercepted, which is nice, since now we don't have to listen to Brett Favre talk about how he doesn't care about the record, he's just sad because the Packers lost, because that's the kind of wonderful guy that Favre is.
• And speaking of wonderful people ... fuck you, Joey Porter. Guaranteeing a win against the Raiders, and then getting pushed around all day by Justin Fargas and five oafs in front of him ... it just couldn't happen to a better guy. Please feel free to shut the fuck up for the rest of your career now.
• In fact, there should be consequences for something like that. If you guarantee a win, and then don't back it up, particularly against the Raiders ... the NFL should step in and do something. Mandatory retirement seems appropriate ... perhaps he could be fined his entire yearly salary. Or maybe Roger Goodell could just implement some kind of new punishment, where players aren't allowed to speak for weeks at a time ... I'd like that.
• Steelers/Cardinals is underway ... and for the second week in a row, I get to see Ben Roethlisberger attempt to block someone. It's just sick-looking ... he ends up laying face down on the grass, the defender untouched ... I really wish I didn't have to see that. It feels like I just walked in on Betty White taking a shit.
• The Bears, and I had turned away from this game, are trying to come back against the Lions in a game that's somehow turned into a shootout ... they go for the onside kick, and uh-oh ... Robbie Gould has caught that "everything I touch turns into six points for the other team" disease that's infected Rex Grossman and Brian Griese.
• Good signs for the Chargers ... LaDainian Tomlinson has 9 carries for 44 yards and a touchdown already in the first quarter. I might have to take back the bounty I had placed on the head of Norv Turner.
• I hadn't been watching this game either, but Joey Harrington has beaten Matt Schaub and the Houston Texans ... how about Joey Harrington, coming to life and showing a little nutsac? Last week was his "Fuck off, Byron Leftwich" performance, and this week was his, "Fuck off, Matt Schaub, and everyone who says we shouldn't have traded you" performance. Next on Joey Harrington's "Fuck Off" list: Vince Young.
• Wow ... two stats that are not good for the Bears: the Lions scored 34 4th quarter points, an NFL record ... and Brian Griese threw the ball 52 times. Neither of those things is conducive to winning.
• Ooomph. Rocky Bernard, who is a large fellow, just broke through the 49ers line, Alex Smith hunched down, and Bernard jumped squarely on his back ... Smith quickly collapses under Bernard's weight, and has just been pronounced dead. On comes Trent Dilfer, which is nice, since I could use another easy target, since Derek Anderson appears to actually be good.
• It's 14-0 Tampa Bay in the first quarter ... and Ike Hilliard, who I didn't even know was still in the league, has 7 catches for 114 yards already.
• Dan Marino will be happy to know that David Carr has switched to black gloves this week ... in fact, they're jet black and kind of shiny. They may be patent leather. I think it's an odd choice for a quarterback, but it wouldn't surprise me if both David Carr and Dan Marino had huge patent leather wardrobes.
• Every time I look at that game, Julian Peterson, former 49er, and current Seahawk, is pulling himself out of Trent Dilfer.
• However, in not-so-pleasant news for the Tampa Bay Bucs ... Cadillac Williams knee just crinkled up like a bendy straw. I'm no doctor, but human knees don't do that ... there's some shit torn up in there.
• Santonio Holmes just scored because he can run faster than any of the people assigned to stop him from scoring ... Large Benjamin just heaved one up, Santonio ran under it, and got there before anyone else ... 42-yard TD and a 7-0 lead for the Steelers.
• Kurt Warner's finally entered the game for the Cardinals ... and he's putting a drive together, and the Cardinals are about this thing. Warner finishes it off with a short pass to a fellow named Urban, who sort of catches it, and sort of doesn't ... On the 40-yard-line, I tend to think that one's ruled an incompletion. The only reason he gets away with it here is that a "football move" is not required once you're in the endzone.
• Tony Gonzalez hauls in the best pass that Damon Huard's thrown all year ... and the Chargers, clearly the superior team in the 1st half, cannot put away the Chiefs. There is a losing mentality on that team right now .... I wonder how that could ever happen when the Chargers get to look at this motherfucker every day. They might as well hang motivational posters all over the training room that say, "Yeah, we're fucked."
• Steve Breaston is finally going to take one of these ridiculous, booming Daniel Sepulveda punts to the house ... and the Cardinals lead the Steelers 14-7 in the fourth quarter. This is rather amazing.
• The Juice makes not of someone in the Seattle/San Francisco game who made a catch, and attempted to drag his feet ... despite being yards and yards away from being in bounds. "Over by the fucking ambulance" is how The Juice describes his position.
• Shawne Merriman gets a sack of Damon Huard ... and busts out the "Lights Out" dance. I had a feeling that was going to happen this week ... desperate times call for desperate measures. However, if we're going to, in an effort, to bring back things that helped up last year to get us out of this predicament this year, could we start with ... I dunno, Marty Schottenheimer?
• 3rd and 19 for the Chiefs, I figure the Chargers are looking good ... nope. Dwayne Bowe runs a little slant, Huard hits him, the safety took a ridiculous angle, and Bowe is off to the house for a touchdown. Huard would later admit that it was the exact same play the Packers beat the Chargers with last week. I'm no NFL coach, but if it was me ... I might have tried to figure out how the Packers exploited us last week, and tried to stop it from happening this week. But that's just me, I'm stupid like that.
• Ugh. And Philip Rivers fumbles ... the Chiefs pick it up and house it, and it's now 23-16 Chiefs. I know there are a dozen people I could blame this on, including Rivers and the offensive line, but ... My God, do I hate Norv Turner.
• Edgerrin James gets in for the Cards ... and it's now a 21-7 Cardinals lead over the Steelers. Every since giving up that first TD to Santonio Holmes, it's been an efficient, physical, great defensive game by the Cardinals. Color me impressed.
• While we're back on the subject of Santonio ... Dan Dierdorf just called him "San Antonio" Holmes. Somewhere at home, Santonio's mom is watching and thinking to herself, "HA! I finally got someone. Now go do your homework, Langeles and Nork."
• Vincent Jackson has a touchdown pass in his arms, in his hands ... and just elects to let it fall to the floor. Again, I blame Norv. It's my honest instinct that Norv Turner has taught Vincent Jackson to, in a situation like that, let the football hit the ground so that the other builds up a confident, lucky feeling... and THEN, boom, we can strike.
• The Steelers get a late garbage TD, and that game ends ... and Kansas City vs. San Diego has gone final, too. I just sit there, collecting my thoughts for a second, apparently looking miserable ... and this Eagles fan, a guy I see here regularly, walks in to watch the night game ... and he looks at me and says, "Chargers lost?" I nod. He responds, "Man, what the fuck?!"
• Norv. That's what the fuck.