More than any other soccer skill, positional awareness comes with the widest gulf between how important it is to a team's success and how readily noticeable it is to the casual fan watching at home. This is partly due to the limitations of broadcast camera angles, and partly due to the fact that smart movement often ends up being overshadowed by the things it leads to: slick passes, tap-in goals, and free headers at the back post.

It's a good thing, then, that we have this camera angle of today's game-winning goal by Belgium. Keep your eyes on the middle-left of the field, where you'll see Belgium striker Romelu Lukaku creating a goal for his team without ever touching the ball:
Lukaku's one of the best strikers in the world because he's got the kind of strength, speed, and finishing ability that you rarely see packaged in one player, but also because he's always one of the smartest players on the field. His commitment to studying the game and mastering the finer points of striker play are well-known, and it's that commitment that shines through in plays like the one above.
There isn't a single wasted step from Lukaku in that sequence. As soon as Kevin De Bruyne begins his run forward, Lukaku becomes aware of the fact that he has a winger coming down the flank behind him. He immediately explodes toward the middle of the field, crossing De Bruyne's run and dragging a defender with him, leaving an entire flank open for De Bruyne to pass into. Once the pass is played, Lukaku heads straight for the penalty spot to make himself a target. This is where most strikers, salivating at the idea of scoring a game-winner in stoppage time, would have attempted to control the ensuing pass and squeeze off a tricky finish. But Lukaku could see Japan's last defender hugging towards him as he centered his run, and knew that Nacer Chadli would be free near the back post as a result. This led to the most breathtaking part of the whole play: a perfectly executed dummy by Lukaku that left Chadli with an open net.
G/O Media may get a commission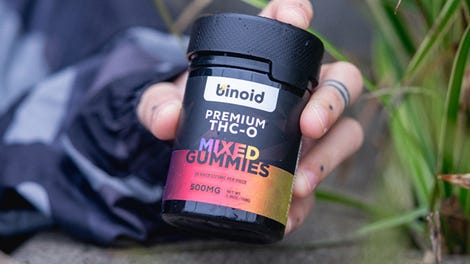 25% Off + Free Shipping
Binoid THC-O Gummies
Curlers from 25 yards out and passes that slice through the defensive lines are always going to be plays that lead highlight reels, and deservedly so. But sometimes the best way to win a soccer game is to run quickly and in the right direction; Belgium are lucky to have a starting striker who is always doing that.