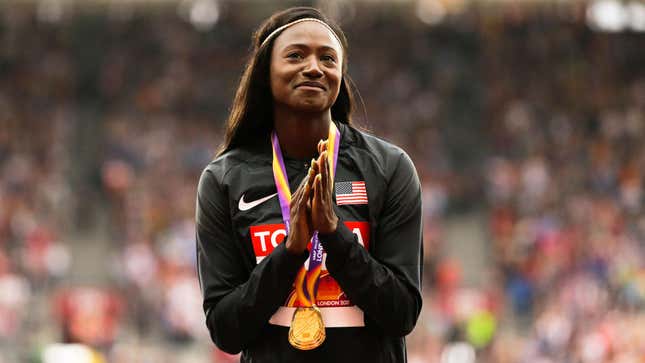 Allyson Felix knows all too well about the enhanced dangers of childbirth for Black women. She required an emergency C-Section to deliver her baby 32 weeks into term. She authored an essay in Time about her former USA Olympic teammate Tori Bowie's death while in labor. An essay that Florida Governor Ron DeSantis could learn from if he possessed any capability of empathy.
How running an NFL team is like running a restaurant | Chef Emeril Lagasse
Bowie was found dead at her home in suburban Orlando on May 2. The Orange County Medical Examiner determined that she died from natural causes, and that she possibly suffered from eclampsia. Preeclampsia is the condition that resulted in Felix needing the emergency C-Section. It is a sudden spike in blood pressure that develops about 20 weeks into the pregnancy that can lead to organ damage.

Eclampsia is when the result of that spike in blood pressure is a coma or seizure. According to the CDC, preeclampsia occurs in about five to seven percent of pregnancies. Eclampsia is an even more rare condition. It develops in about three percent of women who suffer from preeclampsia according to the Cleveland Clinic. However, in the United States, Black women are far more likely to experience complications due to pregnancy.

Per CDC data, Black women are 60 percent more likely to have to deal with preeclampsia than white women. Not only that, Black women are also more likely to have "poorer outcomes" as a result of the condition. In general, Black women are three times as likely as white women to die from pregnancy. Also, according to the CDC, more than 80 percent of pregnancy deaths are preventable.

Currently in Florida, a bill signed by Ron DeSantis to reduce Florida's abortion ban from 15 weeks to six weeks is currently before the state's supreme court. In May, he signed a bill that not only bans Diversity, equity, and Inclusion in the state's public higher-education facilities, but also what can be taught.

The conservative boogeyman, critical race theory, could be used to save lives. The goal of it is not to teach white people to hate themselves. It is to help all people understand that racism is pervasive in institutions, and it needs to be actively rooted out.

A 2016 study conducted by the University of Virginia Medical School proved just how systemic racism is in healthcare. The study concluded that a significant number of its students held some type of belief that Black people are more resistant to pain than white people. Serena Williams almost died after giving birth in 2017, because doctors were slow to respond to her telling them she was in pain. She eventually needed to undergo emergency surgery because blood clots were spreading toward her lungs.

DeSantis and Florida are not the only states showing little to no care for childbearers, especially Black ones. There are 20 states that have restricted abortions, and 28 that have passed some form of anti-CRT banishment.

I'm not surprised that much of American local legislation is more worried about being maximum draconian as opposed to helping its residents. This type of governing is why the leading cause of death of young people in America is firearms. There are too many people in government like Ron DeSantis, making loud and reductive speeches, about emotional and polarizing topics to adoring audiences. Instead, they should be taking Felix's column to heart, instead of pounding the podium while making a disingenuous argument.

That is what passes for governing in this country, and why people like Bowie are dead.