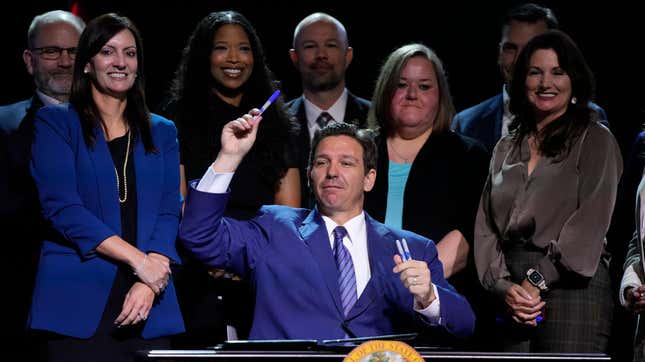 Never go anywhere you aren't invited. This week, Florida Republican Governor Ron DeSantis did his best to uninvite anyone that isn't white to the state's colleges and universities. It's time educators of color, Black athletes, and the NCAA boycott baby Trump.
Is Miami the best sports city in America? | Agree to Disagree
"If you look at the way this has actually been implemented across the country, DEI (diversity, equity, and inclusion) is better viewed as standing for discrimination, exclusion, and indoctrination," DeSantis said at a news conference earlier in the week. "And that has no place in our public institutions. This bill says the whole experiment with DEI is coming to an end in the state of Florida."

The state will no longer spend money on DEI initiatives at its public institutes of higher learning. In case you didn't know, DEI programs help predominantly white institutions (PWIs) increase diversity amongst their faculty and student body. Race, sexual orientation, religion, ethnicity, and socioeconomic status all fall under the DEI umbrella. Florida is joining 19 other racist states where politicians have aimed at similar programs. The only saving grace is that the new law doesn't affect schools spending money on DEI programs if they're federally mandated.
Time to boycott DeSantis
And since DeSantis has drawn a line in the sand it's time for a boycott — given his record.
In January, DeSantis threw a fit when the NHL — a league where 83.6 percent white of its employees are white — was going to hold a job conference in the state that was described on LinkedIn as being exclusive to female, black, Asian, Pacific Islander, Hispanic/Latino, LGBTQ, disabled individuals, and veterans. And in 2021, he signed a law that requires students and faculty of public Florida universities to be surveyed about their political beliefs.
"It used to be thought that a university campus was a place where you'd be exposed to a lot of different ideas," DeSantis said at the time, according to the Naples Daily News. "Unfortunately, now the norm is really these are more intellectually repressive environments."
Precedent already set
In September, Florida A&M and Jackson State University will meet in the Orange Blossom Classic again in Miami at Hard Rock Stadium. It should be the last time the two HBCUs play there. In the coming years, the College Football Playoff will host multiple games in Florida, as the state will also be a destination for the NCAA Men's and Women's Basketball Tournament. New NCAA President Charlie Baker needs to take the games out of Florida until the law is repealed, given that a precedent was set when games were moved because of North Carolina's "Bathroom Bill."
Florida is known for two things — oranges and football. Black people make up a large population of the players that play in-state or get recruited from it, and people of color are the ones usually making up the majority of the workforce who are employed on orange fields.

To be clear, Ron DeSantis wants to be entertained by and enjoy the talents of Black people and minorities of color, but he doesn't want children in the state of Florida to learn their history, or want them educated through the school's public university system.

This is what modern-day racism looks like in a country that "promised" it would do better in a post-George Floyd world. What's done is done. So pay attention to how things play out from here. Because if it's business as usual when it comes to the NCAA and Black athletes and students continuing to attend Florida's public colleges and universities, then it means they're guilty parties in their own oppression.