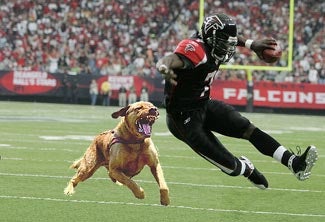 It's not exactly the time you'd expect Michael Vick to start giving a lot of interviews, but yesterday, for the first time, he spoke publicly about the whole dog fighting business. He didn't say much.
In an interview with "The People's Station," V-103 in Atlanta, Vick said ... well, he said that people should stick with him, or something.
"I just want to thank all my fans and all my support and all the people that are praying for Mike Vick and are in my corner right now. It's a crisis situation for me, but I'm going to get through it and I feel, by the grace of God, that's the only way. I believe in the outcome at the end, and that's why I put my faith in the man upstairs. It pains me not be down there right now because I know so many people want to see me and I want to be there."
The interview was with Porsche Foxx, which is an awesome name. Coincidentally, "Porsche" and "Foxx" are two great dog names.