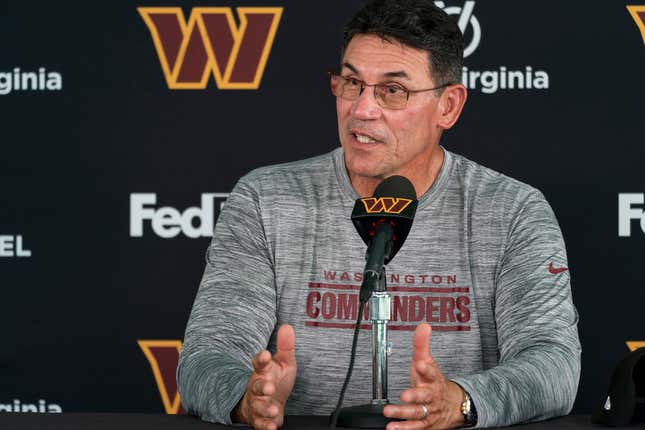 If snitches get stitches, then Ron Rivera should be a bloody mess.
A week after the Washington Commanders head coach informed us that racism was still abundant within the organization as the new ownership still referred to the franchise as the racial slur known as "Redskins," Rivera was back in the news on Tuesday for airing out the complaints of non-winners because a winner with expectations, accountability, and Super Bowl rings is now on staff.
Should Eric Bieniemy have waited for a head coaching job?
And Rivera couldn't wait to get in front of a microphone to spill the latest gossip.

"I had a number of guys come to me and I said, 'Hey, just go talk to him.' I said, 'Understand what he's trying to get across to you.' I think as they go and they talk and they listen to him, it's been enlightening for a lot of these guys," Rivera said, via Nicki Jhabvala of the Washington Post.

The "him" is new Commanders offensive coordinator Eric Bieniemy — the poster child of how historically great Black assistants coaches get passed over for sorry white ones. This season will be the first time Patrick Mahomes won't have Bieniemy as his offensive coordinator in Kansas City, a man that was by his side for three Super Bowl appearances, two Super Bowl wins, and a pair of regular season and Super MVP trophies.

"I mean, it's a whole different approach," Rivera said about the situation. "Again, you're getting a different kind of player from the players back in the past, especially in light of how things are coming out of college football. So a lot of these young guys, they do struggle with certain things."

Bieneimy took over as the OC for the Chiefs in 2018, Kansas City had a 75-21 record between the regular season and playoffs during his five-year tenure. The Commanders were 32-50-1 during that same time frame.

A dude with Super Bowl rings who expects accountability showed up and "tough guys" who play for a pitiful franchise started complaining to another grown man. This is what we mean when we say this generation is as soft as 1-ply toilet paper from Family Dollar. A winner is trying to show losers how to be winners, and the losers are complaining that the winner is asking too much of them. "Well, um. They were just a little concerned, replied Rivera when asked what his players said when they came to him. Bieniemy owned it, as a grown man should.

"Yes, I am intense and I would be afraid too at the start if I didn't know it. ... But I'm always up front and I'm always honest. ... I expect us to be the team that we're supposed to be. It's not going to be easy, but everybody's not going to like the process," he said.
"I'm always going to be loud and I'm always going to be vocal. I'm always going to demand from our leaders. ... I want our guys to clearly understand that we're not taking anything for granted."

"I'm going to be their biggest and harshest critic, but also understand, I'm going to be their number one fan because I support them at all times."

Before the ink could dry on the paperwork for the change of ownership in D.C., the team has been in the news for all the wrong reasons. Magic Johnson was on TV crying over the significance of being a minority owner, acting like he owns 40 percent instead of four. Players are whining about Bieniemy's approach, as they're apparently learning that winning isn't easy. And Rivera has been more than happy to air most of the dirty laundry.

"Well I know this, Mr. (Josh) Harris and that ownership group talked extensively about bringing back the glory," said Rivera about the "Redskins" being used. "And again, what Coach (Joe) Gibbs did, the traditions, that alumni group of guys that are around. It's hard to escape it. It really is. That's just the truth of the matter. Just so everybody knows, we do that with the utmost respect for the native tribes and for the American Indian. Anytime that's brought up, it is brought up with the utmost of respect."

The Washington Commanders are coming off an 8-8-1 season and play in the NFC East — a division in which every team made the playoffs last season except them. They now have an offensive coordinator who has been in as many Super Bowls (3) as they've made playoff appearances (3) in the last decade, and players are irritated with him before the first preseason game.

By Wednesday morning, Rivera was reading a statement to reporters to clean up the mess he made on Tuesday.

"I realize my comments yesterday took on a different life than I intended yesterday, and that's on me for not being as clear as I needed to be. I'll own that," he said.
It's too late, the damage is already done. This is destined to be a wild and dramatic season for the Commanders, and Ron Rivera has already proven he's more than willing to be the biggest source of information. There's a leak in Washington, and it's coming from the man with the whistle.