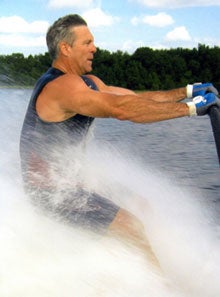 Our beloved alma mater, the University of Illinois, is having a mediocre year in basketball and has won, like, four games in two years, even forcing us to sit through a 33-0 loss to Rutgers last year that mostly resembled a cock fight between a rabid rooster and an egg. But worry not, fellow alums: It's National Signing Day, and The Super Macho Intense Ron Zook and the Illini have brought in one of the best recruiting classes in the nation. How are they doing it? Well, most people think they're cheating, of course.
"If they had a winning program and all of that, it would be a different deal," said John L. Smith, former Michigan State coach. "If they had the greatest facilities in the world, then maybe they could sell them. But what are they selling? Where there's smoke, there's probably fire."
A recruit who didn't pick Illinois had a theory as to why everyone's so upset by all the Illini recruiting success.
"People are scared of what they don't understand," defensive tackle Marvin Austin said. "And I don't think they understand why kids are going to Illinois."
Most of our friends don't understand it either, Marvin, and we didn't even get a scholarship. The key, of course, is Zook, who is Super Monster In Your Face Cool Guy Who Will Water Ski With His Manly Arms. We mean, look at that guy? Who wouldn't want to play for that guy? Really. Nothing nefarious going on. Nope.
Illinois Has Rivals Fuming About Its Recruiting Coup [New York Times]
Fortunately, It Was To A National Powerhouse Like Rutgers [Deadspin]
Ron Zook, Water Skiing [Deadspin]