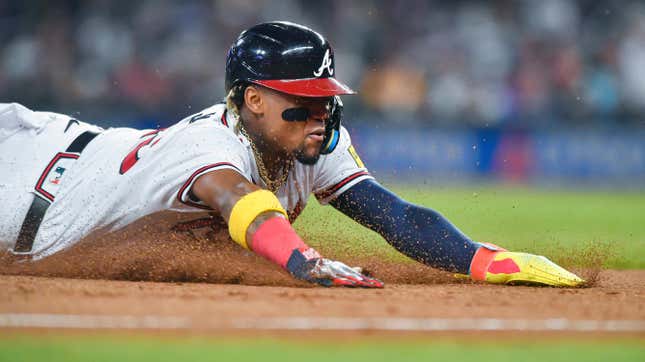 Atlanta Braves star Ronald Acuña Jr. is running away in the National League MVP race. He's tied for first in MLB in runs, third in hits, sixth in batting average, fifth in OPS, and second in stolen bases. He has 11 home runs and 22 stolen bases through 51 games, helping the Braves to run away with the division and the best record in the NL (one fewer loss than the Los Angeles Dodgers).
The best ERA+ belongs to who? | Stats that will blow your mind
I can't even think of anyone who's close in the NL MVP conversation. The one knock against him is he's been terrible defensively with -6 outs above average, but the important thing to remember is that no one cares. MVP voters are still wrapping their heads around OPS. We're still a ways away from them taking advanced defensive metrics into account.

At his current pace, Acuña could make history
Through 43 games, he was on pace for 41 home runs and 64 steals. I think 50 steals is a given, but he has a chance to put up a stat line that no one has ever accomplished before and become the founding member of the 40-50 club. He might even reach the 40-60 club, or hell, even 40-70.

Even if he slightly misses the mark on home runs, he'll still be in extremely rare territory. There have only been two 30-50 seasons ever. One was by a guy you've probably heard of — Barry Bonds — and the other was by a guy you might not have heard of — Eric Davis. Or maybe you have heard of him and I just outed myself as a bad baseball historian. If Eric Davis was your favorite player and you dressed up as him for Halloween as a kid then I'm sorry. If he wanted me to remember them, then he should've played further into my lifetime.
On par with Barry Bonds and ... Eric Davis?
Though not the most feared hitter of all time like Bonds, Davis had an illustrious career in his own right, playing until age 39. He was something of a journeyman for the back nine of his career, but spent his first eight seasons in the league with the Cincinnati Reds. His 30-50 season in 1987 was the first of his two All-Star years. That year he also won a Gold Glove and Silver Slugger, finishing ninth in the NL MVP race.

He helped the Reds to a second-place finish in the NL West along with manager Pete Rose, who has since been banned from the game. The year prior, Davis narrowly missed out on christening the 30-80 club with 27 home runs.

MLB's second 30-50 season came shortly after in 1990 when the then-Pittsburgh Pirate, Bonds, accomplished the feat. It was the year he was selected to his first of 14 All-Star teams and won his first of seven MVPs. Like Davis, he also added a Golden Glove and Silver Slugger for good measure. He led the Pirates to a 95-67 record but they would be eliminated in the NLCS by none other than Eric Davis and the Reds on their way to winning the World Series. A Shakespearean betrayal.

Career years at 25
Both of their 30-50 years were their age-25 season, and Acuña is in his age-25 season. Apparently, this is the sweet spot for putting up incredible power-speed numbers. The parallels probably end at winning the Gold Glove because of Acuña's aforementioned outs above average.

I realize that if Acuña does reach the 40-50 mark, it's probably in large part due to the new, bigger bases, and that we should keep that context in mind. Maybe no other player was more excited about the bigger bases than he was. He led off for the Braves on Opening Day, singled in his first at-bat, and then immediately stole second. No matter the marginal increase in the size of the bases, it would still be an all-time season worthy of the kind of reverence we give to Bonds.