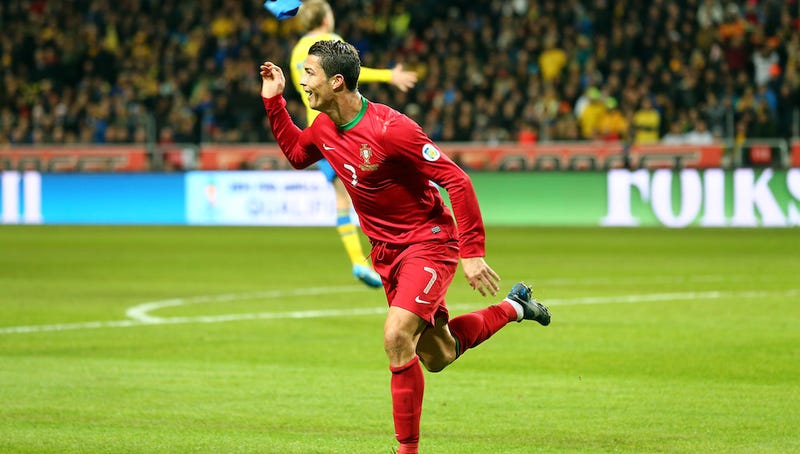 The Portugal-Sweden playoff matchup was seen by most as little more than a matchup of Cristiano Ronaldo and Zlatan Ibrahimović, two of the best players in the world. Portugal won on Friday in Lisbon, 1-0, after a late diving header from Ronaldo. For Sweden to advance, they'd have to win today. That meant that Ibrahimović, essentially Sweden's entire offense, would have to score. He did. It also meant that Sweden's defense would have to contain Ronaldo. They couldn't. No one can. Cristiano Ronaldo is the Antichrist.
Ronaldo opened the scoring. Of course he did. Five minutes into the second half, Sweden, pressing forward, became overstretched, which allowed Portugal midfielder João Moutinho to look up and thread a pass through three Swedish players to Ronaldo, who made a diagonal run across his opponent's back line into open space. It was a great goal from Ronaldo, but was only made possible from an unreal pass from Moutinho. With Portugal up 2-0 on aggregate with an away goal, as well, the difference between the two sides was stark. Ronaldo had players who could help, who could spring him open. Sweden needed three goals to advance, but their star Zlatan had almost no support. No matter.
Ibrahimović started the comeback in the 68th minute, off a corner kick. A ball was lofted in from the right, and the 6-foot-5 striker held off Portugal center back Bruno Alves, leaning into him, not allowing the defender to elevate for the clearance. When the ball came to Ibrahimović, he hopped up and headed the ball down to the back post for the goal.
The big Swede's second goal came just four minutes later, off a free kick from the top of the box. One player standing over the ball dummied the shot, and Portugal's wall inexplicably bit. Zlatan punished them with a low drive that beat the keeper to level the aggregate score at 2-2. Sweden only needed one goal to pull off the shock, but they had nearly 20 minutes to do so. Then, Ronaldo happened.
Ronaldo scored his second of the match in the 77th minute, off another Portugal counter. Sweden were overstretched, and Hugo Almeida collected a pass at half with Ronaldo sprinting down the left side. Ronaldo slowed at half just enough to beat the offside trap, and Postiga released him with a looping ball over the top. Ronaldo took one touch, then slapped it with his left past the keeper for the dagger.
The difference between Ronaldo (and Lionel Messi, for that matter) and the rest of the world is that in addition to being more technically gifted, having a better understanding of the game than anyone else in the world, and being clinical in front of goal, he's blindingly fast. This goal was a video game goal, because there was nothing anyone could do. He was just programmed with too much speed, and couldn't be caught.
His second goal clinched qualification, but Ronaldo wasn't done. Just two minutes later, he was put through on goal by another ridiculous pass from Moutinho, rounded the keeper, and scored his third in the game. It was his fourth in the playoff, and he accounted for each and every Portugal goal.
Portugal-Sweden was perhaps the most exciting of Europe's four World Cup playoff matchups, and in some ways, it was the saddest, too. We saw two of the world's biggest stars dominate, but only one, the better player with the better team, will be playing next summer. We don't know if we'll ever see Ibrahimović compete again on the world's biggest stage. But based on last week's displays, Ronaldo is more than enough.