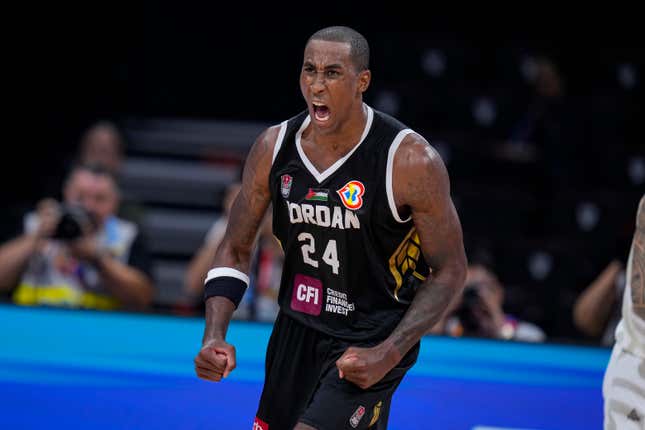 It was a long shot for Jordan to qualify for the second round at the 2023 FIBA World Championships. They are 0-3 through three games and were throttled by USA, 110-62. However, through the defeats a player bloomed. The leading scorer in the FIBA World Cup is, unsurprisingly, Luka Dončić at 30 points per game. Second place is a bit of a surprise — former Brooklyn Nets first-round pick Rondae Hollis-Jefferson, who is averaging 27.7 points per game for Jordan.
How running an NFL team is like running a restaurant | Chef Emeril Lagasse
In the loss to the USA, Hollis-Jefferson played his worst game of the tournament. He shot 6-of-14 from the field and scored 20 points, while dealing with an ankle that he twisted in the second quarter. However, as Jordan's only scoring threat against the USA's lengthy defense, he attempted double-digit free throws for a third consecutive game. Hollis-Jefferson also still managed to convert on some of the same high-difficulty shots that have wowed viewers throughout the tournament.
He is wearing No. 24 for the tournament, and during Jordan's six-point loss to New Zealand fans at the Mall of Asia Arena in the Philippines were chanting "Kobe!" The contested jump shots do very much resemble the late Kobe Bryant, but "Olympic Melo!" would be the more accurate — although more cumbersome — chant.

Carmelo Anthony was named one of the three Global Ambassadors for the 2023 FIBA World Cup, along with Luis Scola and Pau Gasol. As great as he was as an NBA star, Anthony shined brightest on the international stage.

His time with Team USA Senior Men's program began with the disappointing bronze medal finish in 2004. Anthony would go on to become one of the players who made the three-year commitment to play for the team en route to the 2008 Olympic Gold Medal, including another third-place finish at the 2006 FIBA World Championships.

Anthony played some of his best basketball for USA, and became a legend in international play. He is the only men's player from any nation to win three gold medals, and is USA's all-time leading scorer. Anthony's shotmaking in the NBA was good enough for him to be named to the Top 75 All-Time Team, but he was never more efficient or clutch than he was in international play.

Hollis-Jefferson has not played in the NBA since averaging seven minutes per game in the Portland Trail Blazers 2021 first-round series loss to the Denver Nuggets. While in the NBA, he never averaged more than 13.9 points per game in a season.

He was in a tough spot early in his career, drafted by the Nets who depleted all of their draft capital. They finally won more than 30 games in his fourth season, though he was not brought back so room could be made to acquire Kevin Durant and Kyrie Irving.

With the FIBA's effort to make its World Cup top the Olympics as the No. 1 basketball competition in the world, the field this year is one of the best of all time even with Giannis Antetokounmpo and Nikola Jokić sitting out. Hollis-Jefferson has played the best basketball of his life that has ever been nationally televised in America.

He shot 50 percent or better in each of Jordan's previous two games. Against New Zealand, his 39 points on 50 percent shooting was the highest-scoring game of the tournament. The shot-making from all angles is what is going viral on social media, but attempting at least 11 free throws in all three games shows that his success is more than one-legged fadeaways.

Hollis-Jefferson's immediate professional future is in the Philippines, but he can come back to the NBA if any team wants him once that season ends in February. There is plenty of money to be made in international basketball, so he can come back if/when he finds an ideal situation. Regardless of whether or not the NBA is in his future, Hollis-Jefferson's Meloesque international performance should be able to be sustained for years to come.