Bottom line for the 2016 postseason: A Nats title would accomplish what Hillary Clinton and Donald Trump both promise but could never actually deliver. It would change the culture of Washington.
Who are the Nationals?
The Washington Nationals are a team known for potential, not results. Though occasionally picked to win it all, the franchise—the third in baseball history to call D.C. home, after the first two left town in 1959 and 1971, respectively—has yet to notch its first playoff series victory.
And by never winning, the Nats blend in.
Plainly, D.C.'s a town full of losers. The Capitals dependably disappoint fans in the Stanley Cup playoffs every spring, while the Wizards and Skins have been so lousy for so long in the regular season that postseason disappointment isn't usually an option.
G/O Media may get a commission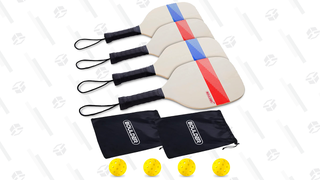 It's Pickleball
Pickleball Sets
The nation's capital hasn't had a World Series champ since 1924. There have been lots of predictions in recent seasons that these Nats will lead us into an era of baseball supremacy. That's yet to happen. Not even close.
But, beginning today in the NLDS against the Los Angeles Dodgers comes another chance. Thanks to a fast start, Washington's NL East title and attendant postseason berth were all but assured by mid-summer. But rather than extend its lead and charge to the finish like Secretariat in the Belmont, the Nats limped home, with stilled bats and serious injuries to key players. Whether it's due to that lackluster finish or the historical lack of success from any D.C. team, there's no obvious optimism about the team's postseason chances among locals.
In other baseball towns, baseball matters such as pitching rotations dominate the conversation. But the talk among fans and players in D.C. is overwhelmed by questions about how much public transportation will be available to and from Nationals Park, and who will be to blame if there's not enough. Seriously. It's an embarrassing state of affairs, and we're not even a state.
What guys should you know?
The Nats have a star-laden roster, so most of the guys you should know are guys you already know. Daniel Murphy (2B) cashed in on all the postseason glories he enjoyed last year with the New York Mets, signing a three-year $37,500,000 deal with Washington, then posted career and team highs in batting average (.347, second best in MLB), homers, and RBI in his first year with Washington. Murphy refrained from spewing that allegedly Christian mumbo jumbo that earned him unwanted ink in New York. He spent the last couple weeks of the season on the bench with what was described as a "strained left buttocks," but Murphy's ass better be in the lineup if Washington's going to have any chance this postseason.
In 2013 with Detroit, Max Scherzer became the only guy named Max ever to win a Cy Young Award. Last year, his first with the Nats, he became only the fifth pitcher to throw two no-hitters in the same regular season. His 20-7 record with a 2.96 ERA and a career high 284 Ks for 2016 could soon make him the only guy named Max to win two Cy Youngs. Fan favorite Gio González (11-11, 4.57 ERA) had his worst year since coming to the Nats in 2010. But with Stephen Strasburg again unavailable, Gonzalez may get the Game 3 start and a shot at salvaging his season, all because he's a lefty and the Dodgers hit just .214 against lefties.
Two guys everybody should know soon, if not sooner: RHP Tanner Roark and CF Trea Turner. Roark will likely start Game 2 in the NLDS. Roark was just a warm body thrown into the 2010 deal that sent Cristian Guzmán to the Texas Rangers in exchange for a desired prospect named Ryan Tatusko. Tatusko never made the bigs and was last seen in Korea. Roark kept climbing the Nats ladder and in his four years in the majors has very quietly gone 42-28, including 16-10 with a 2.83 ERA this year. He's still making the league-minimum salary and his name is mispronounced more often than not—it's rightly ROW-ARK. He's up for arbitration and is going to get a big payday, win or lose in the postseason. Last year, the Nats gave up benchmarker outfielder Steven Souza Jr. as part of a three-way trade that brought in Turner (along with RHP Joe Ross) from San Diego. Early returns indicate this is one of the steals of the century. Turner, still technically a rookie despite a September 2015 call-up and groomed to be a shortstop, replaced Ben Revere in the outfield to get in the starting lineup in July and never left. He hit for average (.336 average), showed power (.558 slugging percentage) and gave the otherwise torpid team its only speed. Lots of speed: playing less than half a season, his eight triples ranked 7th among all major leaguers for the entire year, while his 33 steals all but one of which came after the All-Star break, put him in 6th overall. He won rookie of the month twice to close out the regular season. He was called "the fastest white boy I've ever seen" by Bryce Harper, who knows white boys.
Two guys you know but won't need to know in the NLDS, unfortunately for the Nats: Stephen Strasburg and Wilson Ramos. If Strasburg were a boxer, he'd be the most impressive shadowboxer in the gym, but would have a glass jaw in the ring. His playing career thus far can be summed up as brief stints between injuries. He was infamously held out of the 2012 playoffs—even though he was healthy and during a season in which he'd been named an All Star—because of management's fear that he'd get hurt again. Barring a World Series win, fans will never forget that episode, and his career will have peaked with his very first Major League start, when Strasburg struck out 14* and provided fans with one of the great nights in Washington sports history and incited predictions of as-yet-unrealized greatness. Strasburg's already been declared out of the Dodgers series, but management is dangling hope that he will be fit enough to throw in the NLCS or World Series—if given a chance. As for Ramos, until the last week of the season, the catcher was having a career year at the plate, and partially compensating for Bryce Harper's suddenly flaccid bat. But in a late-September game, Ramos limped away from a play at the plate with torn knee ligaments, severely handicapping the Nats' postseason chances.
One GIF of a Nats Fan
Who has the best baseball chin? 
Bryce Harper.
Can they beat the Cardinals?
No. Hell no. 
Why you should root for the Nats.
The Nats front office doesn't offer up much to cheer for. Owner Ted Lerner, often cited as the richest owner in baseball, balked on paying rent on the billion-dollar stadium he was gifted by the D.C. government. His team has questionable taste in lobbyists. And while the Nats sponsor lots of Little League teams in the nation's capital, the deals also require that those kiddie teams be called some form of "The Nationals," which might be good for marketing but causes boatloads of confusion in scheduling and standings. Then there's general manager Mike Rizzo, a shoo-in to be voted the smartest man ever born if only his vote counts, and a guy who seems to sign whomever Scott Boras tells him to. Members of Boras's stable now on the Nats include Max Scherzer, Bryce Harper, Stephen Strasburg, Jayson Werth, Anthony Rendon, Danny Espinosa, and Gio González. Most annoying, Rizzo often seems to take a to-hell-with-the-fans approach to personnel matters, a tack most obvious in the mind-numbingly awful acquisition and retention of Jonathan Papelbon.
But, while their badwill tank runneth over, Lerner and Rizzo have doubtless put together a talented, fun, and awfully likable bunch for the city to cheer for (particularly since saying Papelbonvoyage to the reliever in August.)
After ham-fisted attempts to sign Bud Black as manager, they brought in Dusty Baker, who at 67 and with forty-something years in the big leagues as a player and coach exudes as much joy and is as lovable as anybody in the game. He's the opposite of his predecessor, brooding bumbler Matt Williams. But, Baker has never won a World Series as a manager. Supplementing his baseball bona fides, Dusty's rootable attributes include not only inventing the high five, but also getting stoned with Jimi Hendrix. (For those who'd let rock and roll minutiae sway their rooting interests: Fifty years ago this summer at Candlestick Park, Nats' postgame TV host, Johnny Holiday, emceed the Beatles last concert and, a year later, the Brotherhood, a teen band featuring future Nats postgame radio host Phil Wood, opened for the Doors.)
Finally, there's Bryce Harper's ring deficiency. Sports are at their most magical when it seems like destiny is fulfilled. Harper's been destined for immortality since he was hitting 500-foot homers at 16 years old. But for athletes, immortality requires a championship. Harper's only 23, but the way he plays, he might not be around for the long haul. Root for Bryce to get that destiny stuff out of the way now. And make D.C. great again.