McIlroy birdied the 17th hole to take a two-stroke lead heading into the 18th and David Feherty called him a baby-faced killer. Par would do the job on 18, and McIlroy two-putted his way to his fourth career major, his second consecutive major win of the year, and his second career PGA Championship.
As daylight ran out, they turned the final hole into a foursome of McIlroy, Phil Mickelson, Rickie Fowler, and Bernd Wiesberger to avoid having to finish Monday. In the beginning of the video, you can see how dark it actually was out there for the players; time was running out.
Rory put his second shot on 18 in a bunker, making his two-stroke lead much cozier than he would have liked, but Phil followed that by just missing a chip-in to put him. Had he made it, he would have finished at 16 under for the tournament. Instead he finished at 15 under, and McIlroy, in near-darkness, tapped in for par and beat phil by one stroke. Rickie Fowler, who was in the middle of everything, missed his final putt to tie Phil and ended up at 14 under.
McIlroy then saved the Wanamaker from its butter-fingered presenter: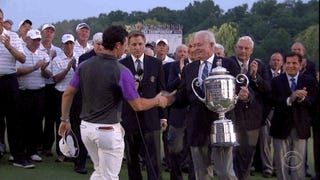 [CBS]