The Sad Jason Dufner Photoshop contest did not disappoint. It was almost impossible to pick a winner, so be sure to check out all of the submissions here. On to the roundup:
G/O Media may get a commission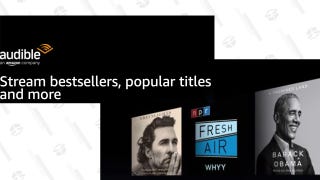 FREE
Audible Premium Plus 3-Month Free Trial
And that one is your winner, Sad Jason Dufner going down a water slide with Sad Tom Brady and Sad Tony Romo.
Photos via (I am very sorry to have to cite all of you like this, but formatting issues/bugs prevented me from putting names with pictures. Blame it on Nibbles. The order of the names corresponds with the order of the pictures.):
Sean JDTU
Don Jeter
Roggae
Jones629
KevNStJoe
Spring1e
Patrick
SchenkersAxe
ShortcakeNerd
EasytobeLeeinLBC
WiltStilts
minjoe
Crusader
Brett
philnigash
Halladay in Cambodia
SonarJose
Brett Conners
whatistuname
chuncho
jsam1212
John
Orangeman12
psydcarss
Puttin' On The Foil
Kozmapologist
nplattii
Trapz56
ellasdad
Twrecks
Sgt. Hammerclaw
wizzard
Cianfrocco's Modern Life
Telemundo
Kozmapologist
50ShadesOfJimGray
notgivingacare
TomSpanks12
Timpranillo
wizzard
Winner: beaverFEVER. Hit us up at tips@deadspin.com for your prize.