Because no one reads the newspaper, and SportsCenter's anchors are too perky for this early in the morning, Deadspin combs the best of the broadsheets and the blogosphere to bring you everything you need to know to start your day.
•This is why the Phillies got Roy Halladay. (To throw perfect games? That's kind of ridiculous. And yet; yes, that's why.) It was a nailbiter, with Roy a pitch away from giving up the lead at all times. Those pesky Marlins never did reach first, though. Of course, using MLB's official NL-to-AL conversion rates, Halladay loses this one, 8-1. (Thanks to Andrew for the photo tip-off.)
•They made goalie pads smaller. They got rid of the two-line pass rule. Will you watch us now, America? I sure hope so, because last night's 6-5 shootout that gave Chicago game 1 was thrilling, thrilling hockey. (Was it good hockey? That's debatable.) The Blackhawks and Flyers scored just as much as the Phillies, Cubs and White Sox combined yesterday.
•Oh look, the NBA Finals will be Lakers and Celtics. This, despite teams like the Jazz, Thunder and Suns making the West look like a crapshoot. This, despite the Celtics being horrible for 82 games. This, despite LeBron James existing. The NBA: unpredictable! Unless you predicted what has been by far the most common Finals matchup in history.
•I hope you had Kendry Morales on your fantasy team yesterday, because got your points for a home run, RBIs, and a broken leg suffered when jumping on home plate to celebrate a walkoff grand slam. He's likely done for the year. So, "walkoff" probably isn't the right word, huh?
G/O Media may get a commission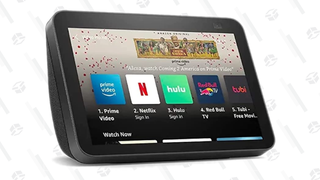 •Rashad Evans took a unanimous decision over Quinton "Rampage" Jackson at UFC 114. Just for that, I'm not going to see the A-Team remake. Well, that, and numerous other reasons related to it probably being a horrible movie.
•••••
It's the Sunday before Memorial Day. So maybe you're on the beach, reading this on your iPad while sipping a Mojito. If so, die in a fire.