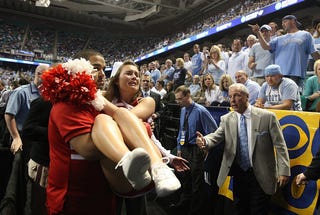 Got an image you'd like to see in here first thing in the morning? Send it to tips@deadspin.com. Subject: Morning crap.
This appears to be a photo of UNC coach Roy Williams consoling an injured Radford cheerleader,but it's not. No, Coach Williams is trying to get the attention of the referee to complain that it's illegal for Radford to not have a full cheerleading squad for a nationally televised game, even if it's a blowout. "And she's the best looking one, too!," he yelled.
PHOTO: NewsandObserver
*****
Good morning. I am back from Florida, back to the cold, cold Brooklyn morning. Only for a short period of time because there's more traveling to do tomorrow. But let's make this Monday just extra special, shall we?