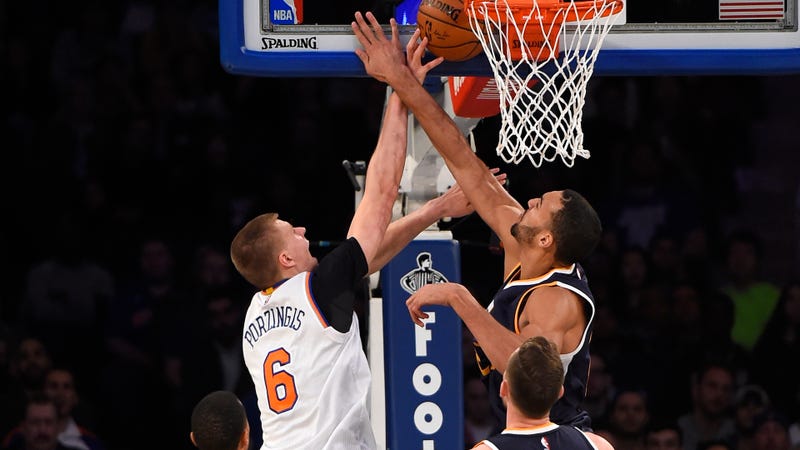 The New York Knicks' Sunday afternoon started off pretty well. A 30-20 lead over the Utah Jazz at the end of the first quarter, 14 points from sweet franchise guiding light Kristaps Porzingis, this gorgeous assist from Derrick Rose, all was looking good.
About an hour later, not so much. After seeing their lead drop to five at halftime and two at the end of the third quarter, the Knicks let the Jazz have the end of the game. With a seven-point lead and less than three minutes to play, Utah center Rudy Gobert decided he wanted to give Porzingis a little experience with being on the other side of a dunk for once in his life. "Tallest combined height of dunker and dunkee" is sadly not something you can research with Basketball-Reference's Play Index tool, but 7-foot-1 on 7-foot-3 is probably up there.
Two possessions and 40 seconds later, Gobert made it clear that not only would he not let Porzingis have a chance to seek revenge, he wouldn't let him have a chance at anything at all:
The Jazz went on to win, 114-109, led by 28 points from Gordon Hayward in his first game of the season after sitting out the first two weeks with a fractured finger from training camp. The Knicks, now 2-4, were anchored by 28 points apiece from Porzingis and Carmelo Anthony.