One of Russia's many problems is racism. And not just the quiet, personal racism you find everywhere in Europe; also the kind of blatant, in-your-face sort that ... you also find most everywhere in Europe. Take, for instance, the upheld suspension of Ghanaian-born midfielder Emmanuel Frimpong, who was punished for showing his middle finger and cussing at fans who were loudly making monkey noises aimed at him.
Earlier in the week, Frimpong posted the following video on Twitter, showing what had provoked him in the midst of a Russian Premier League game against Spartak Moscow:
For his behavior, the Russian soccer authorities (the RFU) punished him with a two-match suspension. Frimpong was fine with that result, admitting that no matter how much derision he took on the pitch, he should not have responded the way he did. (This in itself is asking way more self-control of an athlete than is reasonable, but whatever.)
What he wasn't okay with was the investigation into the fans' behavior. While deciding on Frimpong's punishment, the RFU concluded that there wasn't any evidence of racist behavior against the midfielder. From the Guardian:
The head of the disciplinary committee, Artur Grigoryants, said: "The match inspector and the match delegate did not note that there had been any disciplinary violations by Spartak supporters towards Frimpong in the match reports.
"There were no instances of racism. We have no grounds to take disciplinary sanctions against Spartak. Frimpong has been banned for two games for the offensive gesture he displayed towards the stands."
G/O Media may get a commission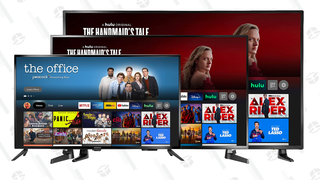 Up to 44% off
Prime Early Access - Insignia Fire TVs
Well, if they only asked the match inspector and delegate, maybe that could explain it. Two people can't be expected to observe every little incident in an entire stadium, right? Only they did consult other sources:
The Russian Premier League's security director, Alexander Meytin, also said the league had not found any evidence of Spartak fans racially abusing Frimpong.

"The video cameras did not pick up any evidence of gestures. There were no gestures aimed at the footballer," Meytin said in an interview with the Russian sports website Championat.com.

"We asked the stewards. They did not see anything either from the fans," he added.
"Yep, no evidence at all. Nothing to see or hear right here on the televised broadcast of the game, and that wouldn't be conclusive anyway, knowing what kind of digital magic people can do with their computers nowadays. For all we at the RFU know, Frimpong might've added those monkey noises over the video himself. He got off light, if anything."
Frimpong called the RFU's ruling on the fan behavior "beyond a joke," but mainly just wanted to get past the situation. Today, FIFA has requested that the RFU explain its decision-making process, since it's so obvious that fans made monkey noises on the video. They've given the RFU until Tuesday to respond and should that deadline pass, some sort of sanction will be enforced on Wednesday.
While it sucks for players like Frimpong who must turn to a league like Russia out of career necessity—the Ghanaian came up in Arsenal's youth academy before being cut loose—high-profile black players will hopefully take the matter out of the racist fans' hands. No black player should play in Russia unless they have to.