The U.S. Center for SafeSport has banned three-time Olympic taekwondo medalist Steven Lopez, declaring him permanently ineligible earlier this week for "sexual misconduct involving a minor." According to a copy of the notice of the director's decision and other SafeSport records, which Deadspin reviewed, the investigation found that Lopez "violated the applicable policies, as outlined in the investigative report, by grooming a minor, sexually touching her vaginal area and breasts, and receiving oral sex." The ban went into effect Thursday—but it also could change. Lopez's lawyer said he will appeal the decision, and Lopez's brother, Jean, successfully appealed his SafeSport ban for sexual misconduct when SafeSport said it couldn't defend the decision without the accusers testifying. (This is a requirement that is not in the SafeSport policies and procedures.)
The Lopez brothers, once dubbed the first family of taekwondo, also are named in a civil suit in which multiple women accuse them of years of sexual abuse, which they said went ignored by the U.S. Olympic Committee and USA Taekwondo because of the family's prominence in the sport. Steven Lopez's lawyer, Howard Jacobs, said his client denies the allegations.
The former taekwondo athlete who said Lopez abused her, Nina Zampetti, said what mattered to her was Lopez not being allowed around children anymore. What happened deeply affected her life, Zampetti said, and she didn't want someone else to go through what she did.
"I feel like maybe my life could have been different if that didn't happen to me," she said, adding "I am not lying."
According to SafeSport's investigation report, Steve Lopez did not speak with their investigators. In an email to SafeSport, an attorney said that was due to the possibilities of a criminal case. But Zampetti did provide a statement to SafeSport, as did her sister, and she provided them with photos of her and Steven Lopez as well as a text message from his sister, Diana, asking her to call not too long after SafeSport was notified. Zampetti is not a part of the civil lawsuit, but she has reported Steven Lopez to authorities in Texas, and the law enforcement investigation there is ongoing. Zampetti trained with Steven Lopez until she quit the sport, at age 16. Here is how SafeSport's report summarized what happened in her case, which lines up with what Zambetti has said publicly about what happened:

G/O Media may get a commission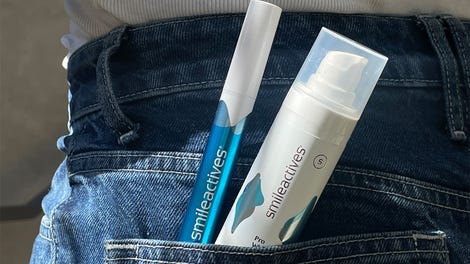 58% off
Whitening Powerhouse Pen & Gel Duo
Zampetti met Lopez when she was about 10 years old. Lopez was her coach, giving her private lessons. In 1998, her family moved next door to the Lopez family and, when there was trouble in her home, she would stay with the Lopezes. At one point, she lived in the Lopez family home. Steven Lopez "engaged in various grooming behaviors," the SafeSport investigation found. "He held her hand, would have her sit on his lap, and would give her gifts including a ring."
When Zampetti was 14 she was living with the Lopez family. One day, she and Lopez were sitting on the couch together when he rubbed what the report called "her private area." The next night, Lopez asked Zampetti if she was a virgin. He had her take off her shirt, touched her breasts, and had her take a shower. When she returned, Lopez asked her to perform oral sex on him and she did, according to SafeSport as well as what Zampetti has said in past interviews.
The SafeSport investigation report details why Zampetti was found to be credible. She recounted what happened in detail. She had previously given a similar account of the shower to her sister. Zampetti said that she also told Steven Lopez's sister, Diana, and another athlete at the gym about what happened; SafeSport reached out to the sister and that athlete but, according to a footnote, was "unable to interview either witness." And Zampetti, the report said, "had no discernible motive to fabricate a claim against Steve and, in fact, due to the close relationship with her family and the Lopez's, her decision to reveal what occurred has been very difficult for her and has the potential to negatively impact long-standing personal and familiar relationships."

Attorney Stephen Estey represents several other women suing USA Taekwondo and spoke out when SafeSport overturned the ban on Jean Lopez. He said of the Steven Lopez ban, "We can only hope that Lopez does not find a loophole to escape accountability much like his older brother Jean. SafeSport must vigorously defend the ban if and when Lopez appeals the decision."
Lopez's attorney, Jacobs, said: "We expect that when a neutral fact-finder hears the case for the first time, Steven Lopez will prevail, because the allegations are false."