Welcome To Minor Enterprise, in which we celebrate the world of minor league baseball promotions, and occasionally help local police solve crimes. Today, a profile on the Independent American Association's St. Paul Saints, who are blazing new trails in creative baseball promotion.
It's pretty safe to say that Midway Stadium in St. Paul, Minn., is the only minor league ballpark in America where one can get a professional massage from a real Catholic nun. Pictured here is Sister Rosalind, who has been doling out massage therapy at St. Paul Saints games since 1993 ($8 per ten minutes. Please form an orderly line). But fans don't bat an eye, because the spectacle of a grown man getting a massage from a nun in the mezzanine section is really nothing special here.
In fact it's hard to imagine something that would surprise a Saints fan at this point. After all, this is the team that has a pig bring out game balls to the home plate umpire between innings, and employs Mrs. Stepford, a prim and proper 1950s-era housewife who serves as an usherette. And don't forget Guy Tracy, a Sam Spade-style private detective who wanders the stands investigating mysteries.
But to truly get a taste of what the Saints are about, you have to take a look at their promotional calendar. Of particular note is Sunday, May 25, when St. Paul will play host to the Fort Worth Cats. That'll be National Tap Dance Day at Midway Stadium, when 2,500 lucky fans will receive Bobblefoot dolls. In this update of the traditional bobblehead, the Saints will hand out toys in which a bobbing foot is extended below the partition of a bathroom stall, meant to commemorate the day that Sen. Larry Craig was arrested for tapping his foot at an undercover police officer in a Minneapolis airport bathroom.
"People have come to expect that kind of thing from us, so the pressure is on every season to try and top ourselves," said Sean Aronson, the Saints' director of media relations who also doubles as the team's radio play-by-play broadcaster. "When a news item like the Larry Craig incident breaks, we actually have media people calling us the next day asking what we're going to do with it."
G/O Media may get a commission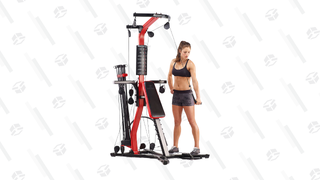 31% Off
Bowflex PR3000 Home Gym
Indeed, among past Saints promotions have been Michael Vick Night, in which fans received a Michael Vick doggie chew toy; Love Boat Night, commemorating the Minnesota Vikings infamous love boat sex cruise on Lake Minnetonka; Randy Moss Hood Ornament Night; and Bud Selig Seat Cushion Giveaway, in which fans could sit on a picture of Selig's face.
Such a creative approach should really be no surprise, considering that two of the men behind the team are Mike Veeck, son of legendary major league promoter Bill Veeck, and comedian Bill Murray, part-owner of the Saints. Veeck is President of the Goldklang Group, which represents marketing and promotional rights for the Charleston RiverDogs, Hudson Valley Renegades, Ft. Myers Miracle, Sioux Falls Canaries, Brockton Rox and the Saints, the latter the group's flagship franchise. The Saints drew 297,000 fans last season; 102 percent of stadium capacity.
Aronson (pictured), a 31-year-old University of Colorado graduate, has been with the Saints for two years, after a similar stint with the Miracle. In addition to National Tap Dance Day, the upcoming home stand beginning May 22 will include Thursday's Salute to Ramen Noodles; Friday's appearance by Zap of the American Gladiators (sponsored by the Minnesota Asthma Coalition); and Saturday's Tribute to famous mime Marcel Marceau.
"I have Mike Veeck's book, Fun Is Good, on my desk, and I live that philosophy," Aronson said. "He comes to St. Paul a couple of times a month, and he's an inspiration. There is an atmosphere here that promotes creativity. They want us to take chances."
Of course there have been some ideas that haven't worked out, such as the infamous Mime Day about eight years ago.
"This was before I came to St. Paul, but we had a game in which we put mimes on the roof of the home dugout to act as instant replay, reenacting plays," Aronson said. "But then this kid threw a hot dog and hit one of the mimes; it also happened to be Dollar Hot Dog Night. The mimes were getting pelted with hot dogs, which was good for concessions, but the team never did that again.
"You have to remember what kind of a market St. Paul is," Aronson said. "This area has the Twins and the Timberwolves, Lynx and the Wild, plus several college teams. We're competing with a lot, so we have to be innovative and give people something they haven't seen."
One of those glorious ideas will come on July 16, when the Saints stage their promotion entitled A Monkey Can Do That!
"We're going to bring in a real monkey, who will perform several of the tasks that we usually do," Aronson said. "The monkey will help drag the infield, take tickets, and may even sit in on the TV side of our game broadcast. It's really one of the most basic ideas you can come up with."
Um, sure it is ...
But please, folks, do not throw hot dogs at the monkey. Thanks.
UPDATE: Reader Max2068 shares action photos of his personal nun massage at a Saints game. Awesome!
Contact us with any minor league photos, game reports or news on promotions at RickChand@GMail.com. Thank you, my son.