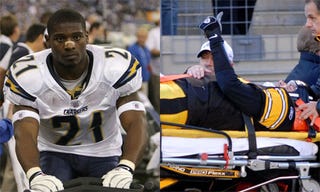 Here is where you can leave your informed opinions about the 4:30 AFC Las Vegas Invitational Division Playoff Donnybrook. By the way, how much do you trust your bookie?
Yes, it's the rematch of the greatest gambling moment of the season, when a completely pointless and boneheaded video replay review created a $64 million dollar exchange of money. That's why they call it gambling, folks!
Of course, nothing like that could ever happen in the playoffs! Sports is a bastion of integrity and forthrightness and this game will surely demonstrate heretofore unseen levels of sportsmanship and fair play. And stationary bike riding.
P.S. I hope you like stories about Pennsylvania!