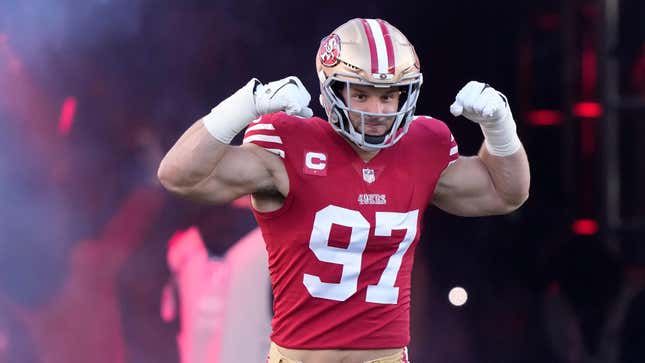 Add San Francisco 49ers edge rusher Nick Bosa to the list of players not reporting to training camp around the league due to contract disputes. That's the expectation in the Niners front office and among the coaching staff, as expressed by general manager John Lynch during the team's press conference Tuesday.

5 Richest active NFL players | Money Mondays
Lynch stated, "This one is a little more complex," but it's a deal the team needs to figure out as soon as possible. It could mean losing another notable player somewhere down the line (likely sooner than later), but this signing is a must for a team that's built its identity around stifling defense.
When fans often hear "hold out" or "contract dispute," they immediately fear the worst of no longer seeing that player in their favorite team's uniform. Bosa's coming off a campaign where he took high AP NFL Defensive Player of the Year honors, was named First-Team All-Pro, and was selected to his third Pro Bowl in four years. He's earned every penny he and his agent ask for from the 49ers.
Plus, the Niners are in win-now mode, and losing a player and team leader like Bosa would only negatively affect the franchise. It's hard to replace 34 sacks over the past two seasons. Bosa turns 26 in October, and he's just entering his prime and only getting better each year. Allowing all that upside to get away over a few NFL bucks on a team that could win it all feels like a terrible business decision.