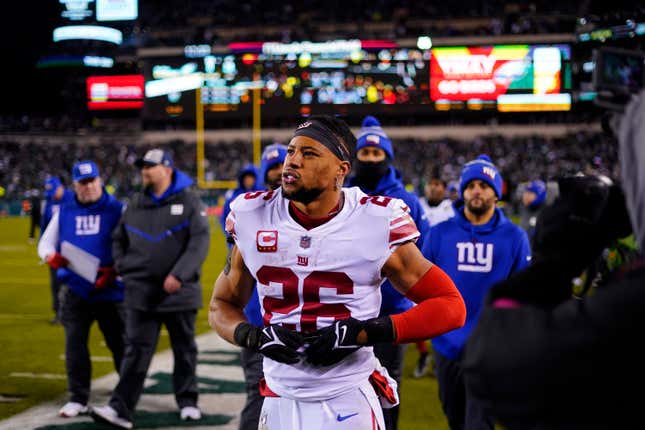 A big second contract for an NFL running back is a rarity. Derrick Henry shared carries during his first three seasons as a pro, following his nearly 400-carry junior season at Alabama. In Year 4 he became the best running back in the NFL and received a new 4-year contract in 2020. Saqon Barkley has been toting the rock for the New York Giants for six seasons, and he wants a multi-year deal.
Can Saquon get the New York Giants back into the playoffs? | Agree to Disagree
If he and the Giants do not come to an agreement on one by Monday afternoon, then the only contract option that he will have is a franchise deal worth just over $10 million for one season. ESPN's Dianna Russini is reporting that the two sides are still far apart, and that Barkley is willing to not take the field for the Giants' season opener against the Dallas Cowboys.

The only leverage that Barkley has at this point is to make a mess that could ruin the Giants' entire season. They surprisingly made the playoffs in 2022. Daniel Jones had his best season as a pro in Brian Daboll's first season as a head coach, but that offense would have been a disaster without Barkely.

Even if Wan'Dale Robinson and Sterling Shepard were healthy, the Giants' passing attack would have been limited. There is no need to look at the tape for proof, a look into Jones' new contract will do. The Giants can waive him in 2025, suffer an $18 million cap hit, and still save money. Don't expect Joe Burrow or Justin Herbert's upcoming contract extensions to have those franchise safety mechanisms.

It was Barkely's 1,650 yards from scrimmage and 10 touchdowns that opposing defenses respected most. However, it was his best season since 2019. He missed most of 2020 with an ACL injury, and recovery from that along with an ankle sprain the next season severely hampered his performance.

Running backs come with the risk of injury and sudden talent depreciation. Todd Gurley was good for 15 games after signing his 4-year contract extension in 2018. By the start of the Los Angeles Rams' 2021 Super Bowl Championship season, Gurley was out of the NFL.

The Rams offered him an extension with two years remaining on his contract. A team that needed stars understood his value to not only drive interest in the franchise, but also that his talent was the fulcrum of their offense. In the long run they went to two Super Bowls in four seasons even though the second appearance was without Gurley.

Barkley serves the same role for the Giants' offense. They may not need him to stoke passion in a laissez-faire fan base, but if his holdout extends into the season the Giants will be the worst team in the NFC East. The Washington Commanders and Philadelphia Eagles are loaded, and the Cowboys have added some solid pieces to compliment their stars.

Maybe if last season was a disaster, the Giants could have easily moved on from Jones and if Barkley wanted to hold out the consequences for the franchise would be minimal. Instead, the Giants have a team with some promising young defensive talent that is looking to improve upon a season that ended with the franchise's playoff berth since 2016.

That is all the leverage that Barkley has on the Giants for the next five days. Do they want to win, or are they willing to regress? The risk is significant in inking Barkley to a deal like ones signed by Henry or Gurley. The odds are that it will age more like Gurley's than Henry's.

But if the Giants and Barkley don't come to an agreement, either he will have to buckle or 2023 will be a wasted year for both sides.