The soccer team representing the tiny nation of Bhutan (estimated population: 733,643) traveled to Sri Lanka Thursday for their first ever World Cup qualifier. Now, Sri Lanka isn't a very good soccer nation, but compared to Bhutan they might as well be Brazil. Bhutan is the lowest ranked team in the world—just behind somewhere called Anguilla—yet they beat Sri Lanka 1-0 on the goal above. Look how excited everybody is!
They look like they just won the World Cup, which, hey, they're the only team in the world to never lose a World Cup qualifying match!
To drive home how bad Bhutan is, you really have to read their Wikipedia. They formed in 1982, but didn't play a match between 1987 and 1999. In qualifying for the 2000 Asian Cup, they lost 0-3, 0-20, 0-8, and 2-11. They didn't play at all in 2010 or 2011. But this is my favorite part:
Their highest ranking achieved was 187th, which they last reached in December 2008 following their semi-final performance in the 2008 SAFF Championship. From that high point, they slipped down the rankings to last place in December 2012 to join San Marino and the Turks and Caicos Islands in 207th. They fell to 208th place following the admission to FIFA of South Sudan in July 2014, and dropped to 209th as the only team without ranking points following San Marino's draw with Estonia.
G/O Media may get a commission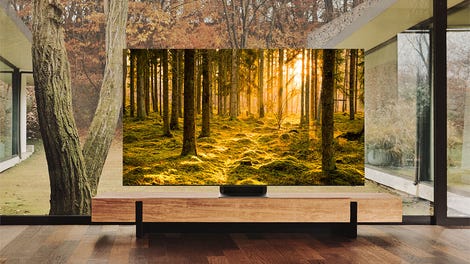 Up to 40% off
Samsung Smart TVs
South Sudan got a higher ranking than them just for becoming a FIFA member! That's incredible. Bhutan's ranking was so precarious that FIFA's algorithm determined that the soccer team from a war-torn nation created only three years prior was better than them.
The first round of Asian World Cup qualifying is conducted via two-legged ties, so Bhutan will face Sri Lanka in four days on their home field: Changlimithang Stadium. This place looks awesome:
Photo via Christopher J. Fynn / Wikimedia Commons
---
Contact the author at kevin.draper@deadspin.com.
Public PGP key
PGP fingerprint: 0EE1 F82C 193A 425C D4D0 FD5B CB8E E6B8 CC72 D58C