Yowza, the Cowboys got owned in Seattle. Russell Wilson outplayed Tony Romo, Marshawn Lynch rushed for 122 yards...oh, let's just let GIFs tell the story.
Not A Great Start: After winning the coin toss, electing to recieve, and fumbling during the kick return, the Cowboys were able to contain the Seahawks offense on the ensuing drive and allowed only a field goal. With the ball back, Romo and friends were held to a three and out, which ended in this:
10-0 Seahawks at the 10:23 mark in the first.
Like A Really Bad Start: On the drive after that blocked punt, the Cowboys took the ball from their own 20 to the Seahawks 24, gaining three first downs in the process. Then Romo did this.
G/O Media may get a commission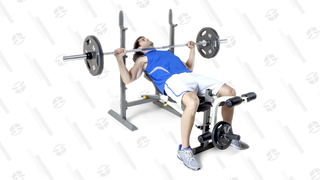 10% Off
Marcy Folding Weight Bench
Get Some (Donuts)!: Oh boy, Golden Tate just absolutely leveled Sean Lee with this block:
Beef Moe: The Cowboys cut it to 10-7 in the second quarter, but when Marshawn Lynch broke off this beastly, 36-yard run in the middle of the third, things started to slip away for America's Team. Russell Wilson threw a touchdown pass two plays later, and the Cowboys didn't score again.
Both teams are 1-1 — even ridiculous lopsided blowouts only count for one game.