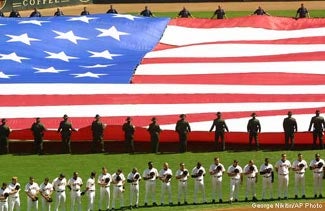 It's the six-year anniversary of September 11 today, and we're not gonna make a huge thing about it, because everyone should grieve / remember in their own personal way. To commemorate the occasion, though, we thought it might be fun to step in the way back machine and see how three of our great political minds reacted to the situation in print at the time: Woody Paige, Jay Mariotti and Skip Bayless. Come with us.
All quotes are directly taken from columns written within the first four days after 9/11/01.
• Woody Paige, Denver Post. "Miss Liberty bowed her head. From on high and nigh, she witnessed the horrifying cataclysm. There were tears in her eyes. And the nation cries with her. Denver was not torched, but it has been touched."
• Jay Mariotti, Chicago Sun-Times. "Our local baseball managers have addressed the idea of a white-flag mentality and suggested players might not be inspired to resume the season, a folly when you consider firefighters and rescue teams are working around the clock and risking their lives."
• Skip Bayless, San Jose Mercury News. "To my disgust, I spent Wednesday and Thursday hearing outrageously paid athletes tell us how irrelevant sports are and how they just didn't feel like playing. Will these eight-figure whiners tell us how 'truly unimportant' sports are before the next work stoppage? Do they think any of us felt like going to work Wednesday? Many in this country needed baseball and football to be played as soon as possible — baseball by Thursday or Friday, college football by Saturday, the NFL by today. This was the least sports could have done for us after all we've done for them."
Well played, guys: Words of which to be proud.
(To be fair, we all went a little overboard if we wrote too early after 9/11.)