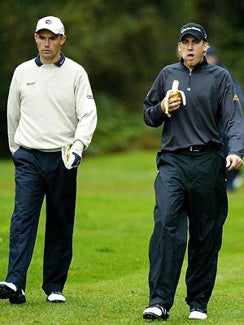 Holy shit. My boy Paddy Harrington did everything he could to hand Sergio Garcia his first Major Championship. He even hit a ball into the burn on the last hole...twice! When Garcia stepped on to the 18th tee he knew he needed par to take home the (Maurice) Claret Jug. You just had to know he'd find a way to fuck up the golden opportunity; he didn't disappoint. After the skittish Spaniard (waggle waggle) dropped his approach into the bunker he needed and up-and-down for the win. Well the sand shot drifted about eight feet past the hole and Sergio's alleged BFF, the belly putter, failed him miserably. And there's your tie.
The two golfers are now back on the course drawing for position in the upcoming 4-hole playoff. Bodog lists both competitors at -110 going into the extra frames. I'm not sure I'd bet on either guy at this point.
UPDATE: My pre-tournament prediction holds water as Paddy Harrington dispatched Sergio Garcia in the playoff. This time nobody hit the ball in the burn/bern but it was still pretty exciting. Maybe next time they could play an entire 18 hole playoff comprised entirely of the 18th hole. That would kick substantial ass. Congratulations to Paddy on his first major, and for becoming the second Irishman to ever win The Open Championship. Additional congratulations to commenter Ukrainenotweak for putting $30 down on Paddy at 25-1.