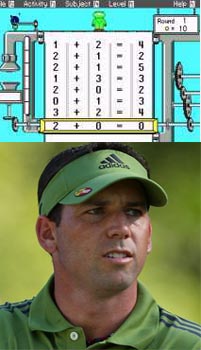 The Deadspin Comment Threadjackal System really works, because without it, I may have missed a goldmine unfold before our eyes. The world's foremost hard-luck PGA golfer, Sergio Garcia, was disqualilfied from the PGA Championship for signing his third round scorecard with an incorrect score. But he's not entirely to blame. His playing partner, Boo Weekley — Fun Fact: He doesn't actually live next door to Atticus Finch — marked Garcia down for a par on the 17th when he actually scored a bogey.
I've always liked the "sign the wrong scorecard and you're disqualified" rule, even if you certify a worse score. And I've always wondered how the official scorekeeper acts as the golfer comes in the clubhouse, and reviews the scorecard. Maybe he behaves like an expert poker player trying to bait his opponent into calling the raise. Once Sergio finished his second cursive "a," perhaps he suddenly blurted out, "WRONG! IT WAS A PAR! YOU'RE OUTTA HERE, LOSER!" That would have been fantastic television.
Poor Sergio Garcia is quickly filling the bingo card of "ways to lose PGA major championships." Next to "18th hole meltdown" (which is actually a free space in the middle with a picture of Phil Mickelson), he can now stamp "incorrect scorecard." To get the diagonal bingo, he needs "throw the 5-iron at a pregnant lady." We might have to wait until next year's U.S. Open for that one.
Garcia DQ'd For Signing Incorrect Scorecard [CBS Sportsline]