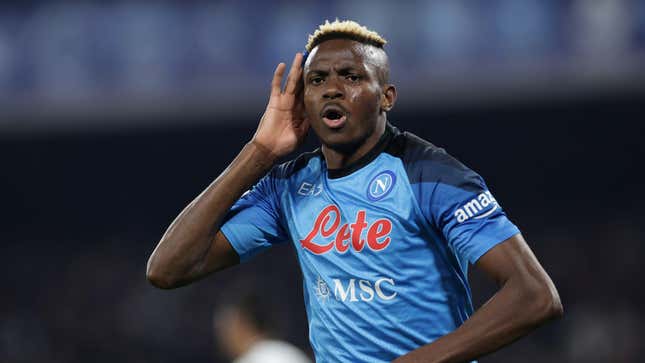 While Arsenal have gobbled up most of the world's oxygen in the "came from nowhere to lead the league" category, there's another team in Europe that's outside the usual cast of characters that is destroying the competition. And while Arsenal may be a joy to watch, they've got nothing on S.S.C. Napoli, currently the game's biggest entertainer. If there's a leading candidate to get their own nostalgia HBO show these days, it's the Ciucciarelli.

France or Argentina? Who wins the FIFA World Cup? | Agree to Disagree
Napoli are nine points clear at the top of Serie A, with 18 games played (so one short of the halfway point). They've scored six more goals than any other team, and only Juventus has given up less than their 14 conceded on the season.
Is Juventus back? Not so fast
Ah, Juventus. Funny they should come up. Last Friday they rolled into Naples having won eight in a row to move to second in Serie A and set up a titanic clash. The fear was that the big, bad Juventus was back after a two-year hiatus, returning to bore everyone into submission again and render Serie A to the background. Also, in those eight games, they hadn't given up a goal. 720 minutes, or 12 hours, without giving up a goal to another Italian side. They proceeded to get clobbered to the tune of a 5-1 score by the league leaders. This was Death From Above, Below, The Side, Betwixt, And Everything else.
By the time Napoli had scraped whatever was left of Juve off the bottom of their cleats, it felt like the Serie A title had already been decided. This isn't the first time that Napoli had utterly fustigated an opponent this season, with Liverpool, Ajax (twice), Sassuolo, and Monza on the ass-end of total beatdowns. It's best demonstrated in that Napoli have a +30 goal difference in Serie A, and the next best team is Lazio at +16. They're doubling up everyone else, and lapping the field.
Napoli led by Victor Osimhen, Kvicha Kvaratskhelia
Look around the field and Napoli have a video game at pretty much every position. Victor Osimhen, the center forward, leads the league in goals and seems to be the perfect blend of speed, and power, and strength. Khvicha Kvaratskhelia, while perplexing pretty much every announcer that gets the Napoli assignment, has bewildered any right back he's come up against on the left side of Napoli's attack and has seven goals and seven assists.
Matteo Politano on the other side of the attack leads Serie A in shot-creating actions per 90 minutes. Stanislav Lobotka, who is at the base of their midfield, leads Serie A in passing. Piotr Zieliński and Andre-Frank Anguissa never stop moving to complete the midfield, and Zieliński simply can't stop threading passes through to the front three that's putting a hole in the world. The two fullbacks, Mario Rui and Giovanni Di Lorenzo, put more crosses and passes into the opposing penalty box than anyone else. Kim Min-jae has become maybe the league's best central defender. As a cohesive unit, they are like watching the Red Army team in hockey from the 80s. They'll score the prettiest goal while also being as miserly and oppressive as possible in defense.
All of this is woven together by manager Luciano Spalletti, who was the nutjob some 15 years ago who turned Francesco Totti into a false-nine striker while managing Roma, and was copied the world over. This is an excellent breakdown of how Napoli plays under Spalletti, but essentially they attempt to play on the counter without actually giving up an attack against the ball. Napoli's central defenders are so good on the ball, along with Anguissa and Lobotka, that they can play around just about any press, or dribble through it if they have to. Either way, they evade that first wave of defenders, and because their front-three carries such a threat in behind, the opponents' defense can't push up all that high or they'll get murdered in the space they leave. That leaves a ton of space between the midfield and defense for Zieliński to launch through balls and switches to either of the wide forwards. Give up on pressing Napoli, and they can be delightfully intricate with one- and two-touch passing and movement to open up space wherever they want.
These days, it's hard not to feel a tinge of sadness when a team like Napoli turns into this bundle of joy, because you know it's likely not to last. Especially in Italy, Napoli are just not going to be able to match the salaries that will be offered to a good chunk of their team, nor will they be able to resist the insane transfer prices that will come their way. Osimhen has been touted as Manchester United's ultimate solution at striker for $150 million or so. Kvaratskhelia, at just 21, has pretty much every big club in Europe going into diabetic shock. Zieliński has been connected to just about everyone in the past. Min-jae could anchor any defense. The list continues from there.
But as we've learned, impermanence is what makes something beautiful. Maybe it will only be this season, but that won't make it any less inspiring. They look like they'll walk to their first Scudetto since Diego Maradona was strutting around the stadium now named after him. They caught a sweetheart draw in the Round of 16 of the Champions League with Eintracht Frankfurt. If we get to mid-March and they're still dusting the rest of Serie A and can really focus on Europe? Who's to say? Who's the guarantee in the Champions League?
Catch this show while you can. It's the best one going and it's a limited run.