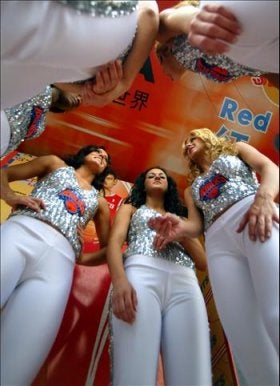 Isiah Thomas, after stealing Zach Randolph and being complimented by Spike Lee on draft night, enjoyed one day of good publicity. Today, Anucha Browne Sanders, who is suing Isiah for sexual harassment, would like to remind us that Isiah is, in many ways, still a dick.
In the papers, which were unsealed Friday, Browne Sanders alleges cheerleader Petra Pope told her that Thomas encouraged Pope to flirt with officials before a game against the Nets in 2004, the Daily News reported.

"What she told me was that Isiah asked her to go into the referees' locker room and make them happy," Browne Sanders testified.
"Make them happy" sounds a little more vague and open-ended than "flirt." That could be anything from "smile and wave at Bennett Salvatore" to "Steve Javie could use a happy ending." But I'm just tired of these frivolous lawsuits ... why can't we live in a world were cheerleaders just shut up, do their jobs, and give Dick Bavetta a boner?
Ex-Knicks exec says Isiah told dancer to flirt with refs [SI.com]